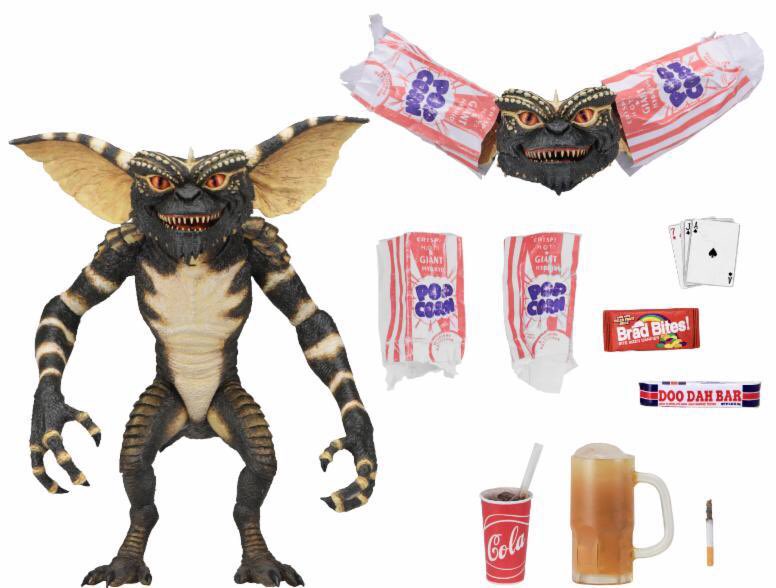 It's kind of a miracle that we haven't gotten a Gremlins remake yet. It is definitely for the best because a large part of the creepiness of the Gremlins was they felt like real characters. If Gremlins was made today it would definitely be a CGI fest and that would ruin everything that made the original films so much fun. This new Ultimate Gremlins Action Figure from NECA reminds you of how cool the design was of the monster characters that you can't feed after midnight. The Ultimate NECA Gremlins figure ships in October 2018 from Entertainment Earth.
From Entertainment Earth: 
Any fan of the Gremlins movies knows the rules: keep them out of sunlight, don't get them wet, and never feed them after midnight. Break them and your fuzzy, friendly little Mogwai will turn into a scaly, savage Gremlin, like this deluxe 7-inch scale action figure (stands approximately 6-inches tall). To honor the first appearance of a Gremlin in the Ultimate line, NECA has completely re-sculpted the original 1984 Gremlin body! This body features over 25 points of articulation, including ears and jaw. This Ultimate edition comes with popcorn bags that can be placed over the ears like in the movie, assorted candy, mug, playing cards, 3D glasses and more. Packaged in a collector-friendly window box with opening flap.