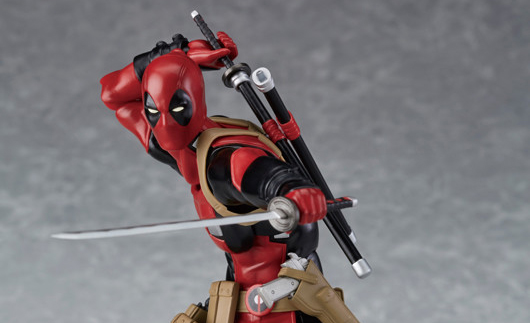 Without a doubt, Deadpool is the most popular Marvel character currently not part of the Marvel Cinematic Universe. Although Fox has done a pretty good job with the R-rated hero, we would still love to see him in a Marvel Studios film one day. It's no secret that the "Merc with a Mouth" is in high demand, and with that in mind this Figma collectible figure is one of the most amusing Deadpool action figures around.
This highly posable Deadpool figure comes loaded with two swords, a knife, two guns, a bunch of swappable hands and three interchangeable heads, with the Deluxe version coming with a fourth head depicting Deadpool eating. In fact, the Deluxe edition comes with an extra lower body showing off Deadpool's stylish boxer shorts, a chimichanga (of course), two machine guns and two sais, making it one of the most fun Deluxe versions of a figure we've ever seen. The verdict is in – we need it.
Pre-orders begin on May 16th, so make sure to check back for more details and info.