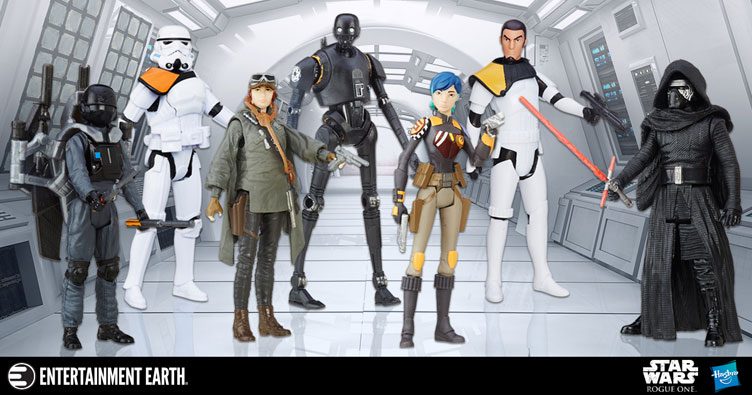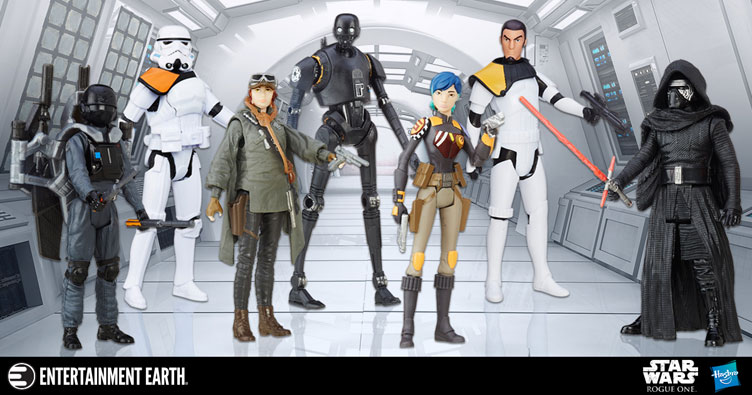 With Force Friday 2016 about to go down and a bunch of new Star Wars toys soon to release, here's a first look at some new Star Wars Rogue One 3 3/4 inch action figures from Hasbro that are hitting the Rogue One Star Wars Shop at Entertainment Earth.
Mixing a few new faces and a couple familiar ones, included in the first wave of Rogue One figures are the newest rebel Sergeant Jyn Erso, Imperial droid K-2SO, Imperial Ground Crew trooper (dark uniform with orange tipped batons), Imperial Stormtrooper, Kanan Jarrus (Star Wars Rebel in Stormtrooper unit leader disguise), Sabine Wren (Mandalorian soldier with blue-and-green hair), and Kylo Ren with black robe, chrome mask and signature red lightsabre to complete the set.
Get your first glimpse at Hasbro's new 3 3/4 inch action figures from Rogue One: A Star Wars Story with many more Star Wars Rogue One toys to come in the days ahead!
Click here to shop Star Wars Rogue One action figures and toys at Entertainment Earth.