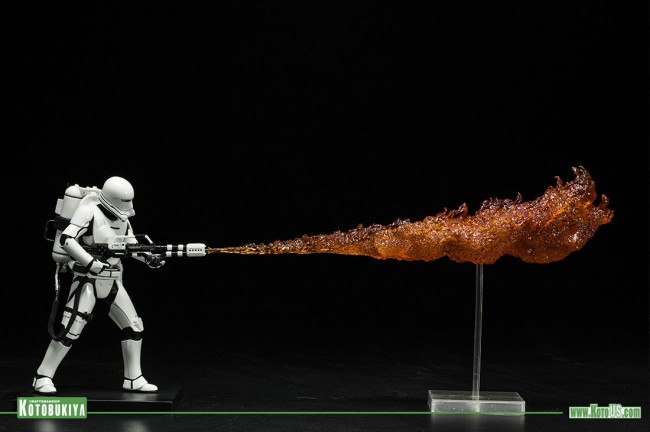 Star Wars is still on everybody's mind and with news about the Han Solo film about to begin shooting, merch for the franchise remains a hot ticket. From The Force Awakens comes a pair of First Order troopers worthy of a space on any collector's display.
These ARTFX+ statues from Kotobukiya include several different parts so you can display both troopers in new and dynamic ways and the Flametrooper comes with a flame blast "special effect" to help bring it to life, or you can swap the D-93 incinerator out for a First Order blaster rifle for a more traditional Stormtrooper pose.
Detailed to reflect the environmental enhancements needed to fight The Resistance in the harsh cold weather, the other statue in this two pack is a Snowtrooper that comes fully equipped with a backpack unit, blaster rifle and red shoulder patch to show off his rank within the First Order.
Both statues are fastened to the base with magnets to ensure they stay steady while on display with the rest of your Star Wars collectibles, priced at $139.99 with an expected November 2017 release.
Click here to pre-order the Kotobukiya Star Wars First Order Snowtrooper and Flametrooper Two-Pack.