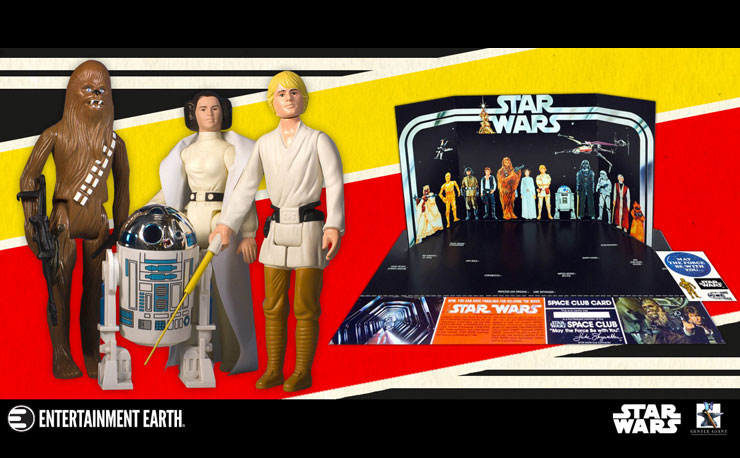 In celebration of the Star Wars 40th Anniversary, Gentle Giant is bringing back four of the original Kenner action figures 40 years later with this Early Bird 4-Pack Jumbo Set that's now available for pre-order.
Replicated perfectly, but in larger scale, the Star Wars Jumbo Early Bird 4-Pack features Luke Skywalker (with his double telescoping lightsaber, and the first DT saber in the Jumbo line), Princess Leia (with white vinyl cape and blue blaster), Chewbacca (with greenish Early Bird crossbow blaster), and R2-D2 (with clicking head) in classic Kenner style, standing 12-inches tall, looking bigger and better than ever. Also included in the set are larger reproductions of the stickers and a large fold-out, as well as a replica display stand that holds the 12-inch figures, along with perforated cards attached to the front.
Perfect for retro collectors who loved the original action figures when they first released, but equally ideal for new Star Wars toy collectors, the Star Wars Jumbo Early Bird 4-Pack by Gentle Giant is now available for pre-order at Entertainment Earth and expected to arrive in January 2018.
Star Wars Early Bird 4-Pack Jumbo Figure Set – BUY NOW
---