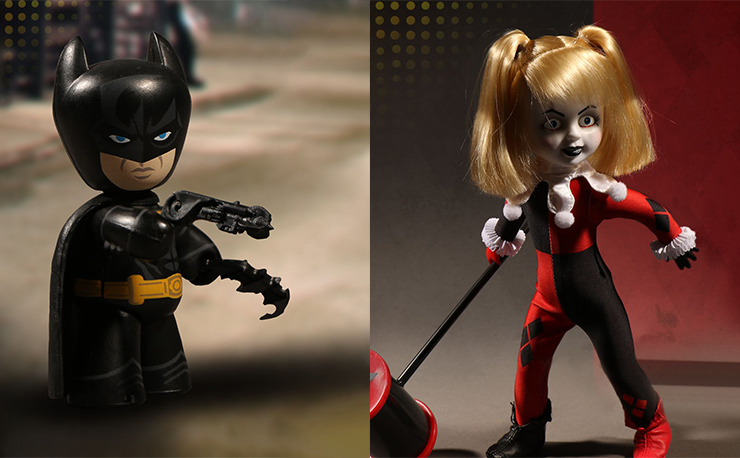 With SDCC once again looming, announcements of exclusives are coming in at an alarming rate. Mezco Toyz always has some of the coolest exclusives saved for San Diego and this year is no different. Featuring figures in all of their popular lines, this year's group of exclusive figures includes a Mega Scale of Lion-O from ThunderCats, a Harley Quinn Living Dead Doll, and a Mez-Itz 1989 Batman figure.
The Thundercats Mega Scale Lion-O figure stands at a whopping 14" tall from the top of his head to the bottom of his boots and features 7 points of articulation. The Summer Exclusive variant comes with a removable Claw Shield, two versions of the Sword of Omens, and an open mouth roaring head that features light-up eyes.
The Living Dead Doll series brings fans a unmasked variant of Harley Quinn in her original costume from her first appearance in the animated series. Coming with full-on creepy face and equipped with her trademark giant mallet, Harley is the perfect addition to Mezco's super-popular Living Dead Doll line.
Finally, the Michael Keaton version of Batman descends on SDCC with an exclusive Mini Mez-Itz figure straight from the 1989 Tim Burton version of Batman. The 2" tall figure comes with a grappling gun and Batarang, and is packaged in an old school-looking box to add even more nostalgia to the figure. In case you missed it, Mezco's mini Dark Knight also rolled out with his Batmobile a little while back, as well.
These summer exclusives will be available to SDCC attendees first, but you can bet that some or all will be available to those who miss out sometime after the convention is over, so stay tuned to AFD for all the info.