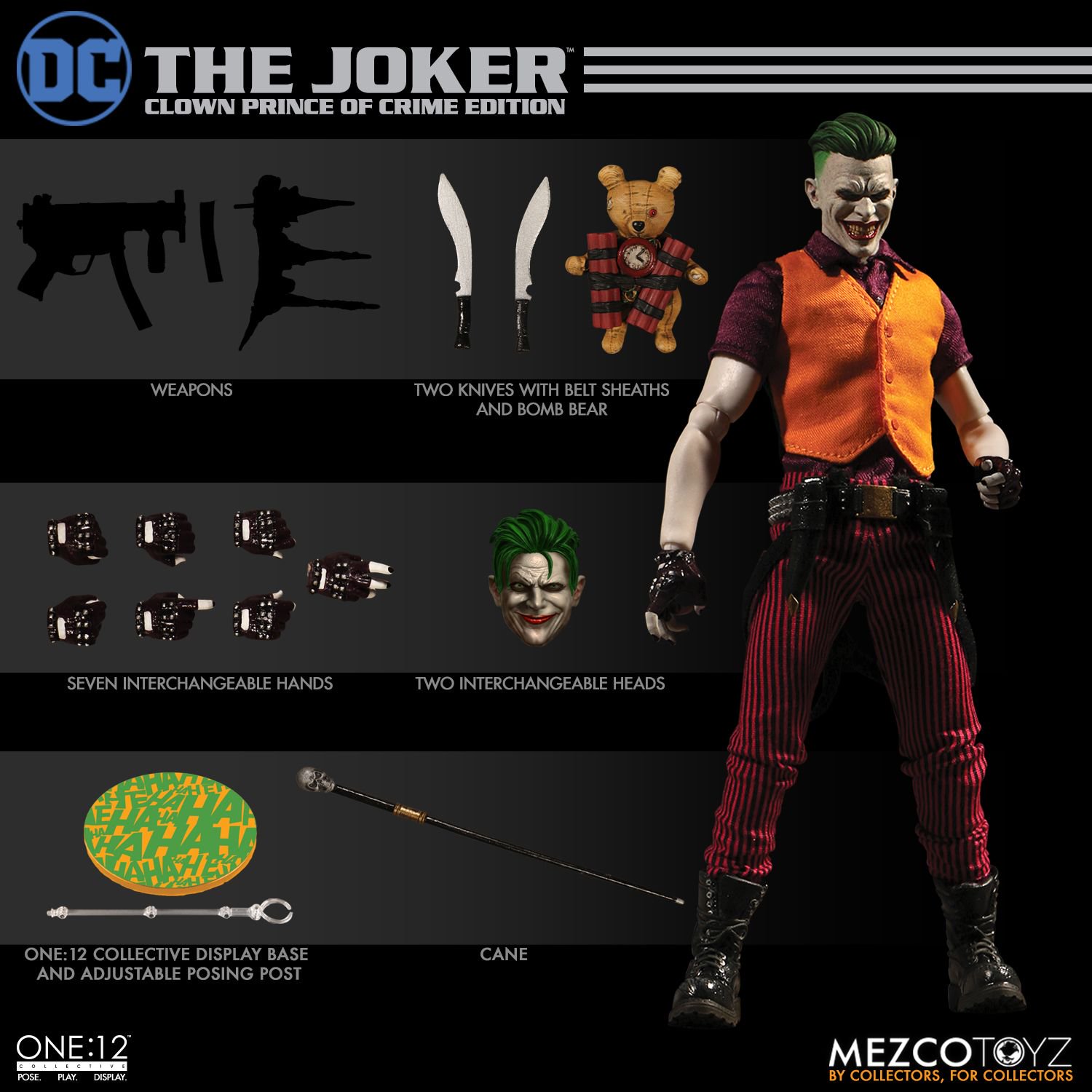 The Joker, also known as the Clown Prince Of Crime, is easily one of the most iconic villains of all time. The Joker is one of the rare pop culture icons that everybody knows and loves. There have been countless Joker action figures made throughout the years and this new one from Mezco is one of the better ones made recently. It is currently available for pre order from Entertainment Earth. You can expect the Mezco One:12 Collective Joker The Clown Prince Of Crime to ship in December 2018.
From Mezco: 
The Clown Prince of Crime is presented in a short-sleeve button down shirt, tailored vest, and pinstripe pants. He comes equipped with the most diabolical of accessories including a teddy bear strapped with dynamite and flaunts two head portraits capturing his maniacal visage.
The Joker has a penchant for blending crime and chaos and is the Batman's most lethal foe. Not only is the Joker the Dark Knight's greatest villain, he is widely considered one of the greatest villains of all time.
One:12 Collective body with over 28 points of articulation
Two (2) head portraits
Hand painted authentic detailing
Approximately 17cm tall
Seven (7) interchangeable hands

One (1) weapon holding hand (R)
One (1) pair of posing/cane holding hands (L&R)
One (1) pair of knife holding hands (L&R)
One (1) pair of fists (L&R)

Short sleeve button-down shirt
Tailored vest
Duty belt with knife sheaths
Pinstripe pants
Work boots
One (1) time bomb teddy bear
Two (2) knives (fits into sheaths on belt)
One (1) skull-handled cane
Each One:12 Collective Joker figure is packaged in a collector friendly box, designed with collectors in mind.