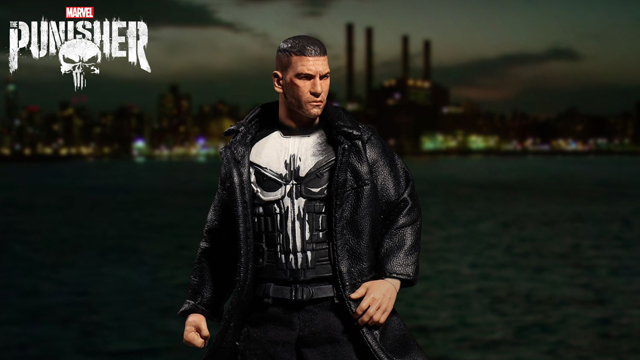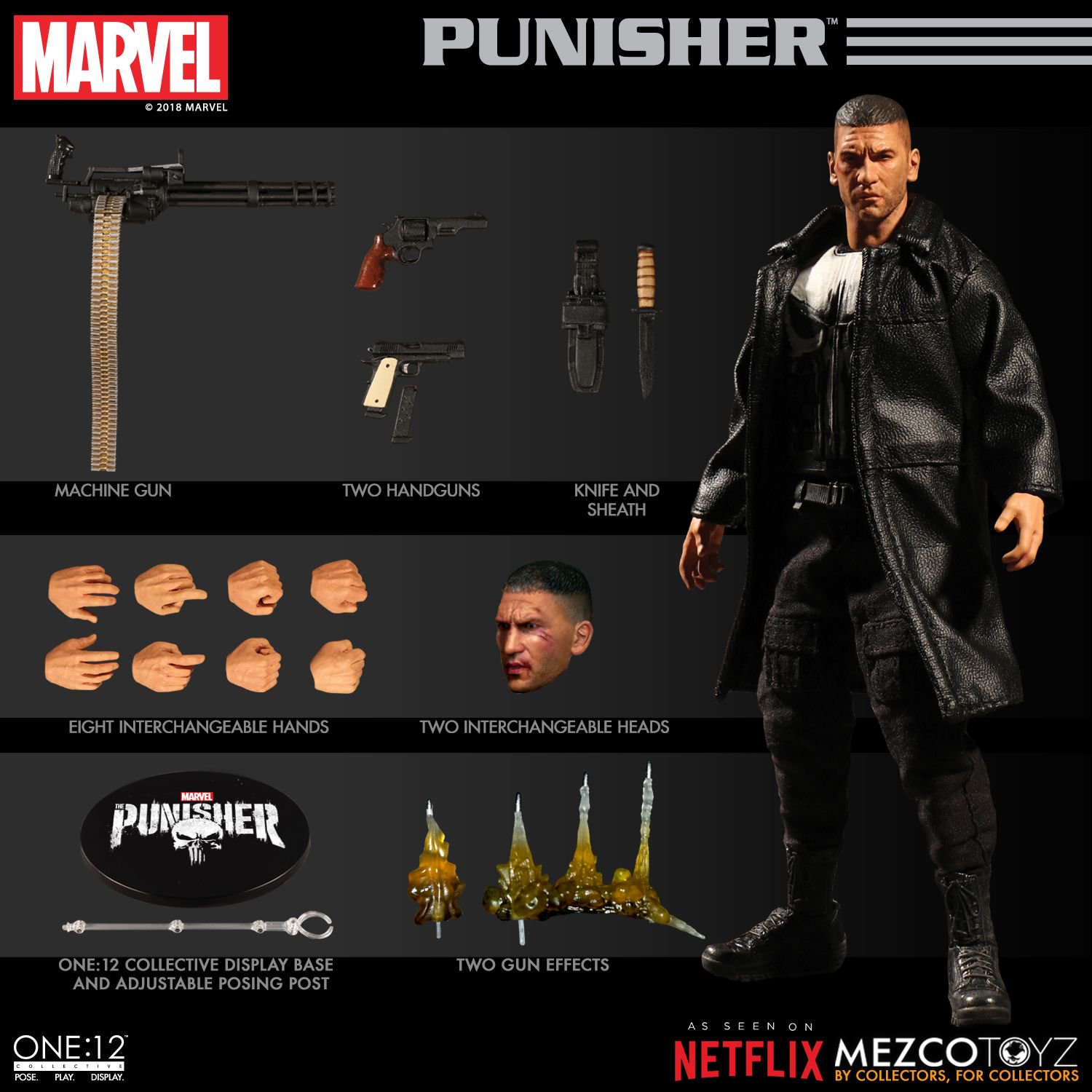 Netflix has done a great job of bringing Marvel characters to the world of live action in a way that is different from the MCU Films. Netflix and its Marvel shows have an edge and brutality that can probably never be done in a $200 Million budgeted family film. One of the strongest Netflix Marvel shows is Daredevil. Season 2 of the show introduced Punisher to the streaming Marvel universe. Punisher hasn't had a great track record when it comes to his film appearances. But, his television appearance on Daredevil was so beloved that it led him to getting his own Netflix series, appropriately named Punisher. This new Mezco One:12 Collective Figure captures the likeness of Jon Bernthal perfectly and features an impressive array of accessories. The figure ships on November 2018 from Entertainment Earth.
From Mezco: 
The One:12 Collective Punisher includes two head portraits capturing Frank Castle's intimidating demeanor as portrayed by Jon Bernthal. Outfitted in a leather-like overcoat and armored vest with skull insignia, he comes complete with an arsenal of weapons, true to the Punisher's menacing reputation.
After exacting revenge on those responsible for the death of his wife and children, Frank Castle uncovers a conspiracy that runs deeper than New York's criminal underworld. Now known throughout the city as The Punisher, he must discover the truth about injustices that affect more than his family alone.
THE ONE:12 COLLECTIVE PUNISHER FIGURE FEATURES:
One:12 Collective body with over 28 points of articulation
Two (2) head portraits
Hand painted authentic detailing
Approximately 17cm tall
Eight (8) interchangeable hands

One (1) pair of fists (L&R)
One (1) pair of gun holding hands (L&R)
One (1) pair of holding hands (L&R)
One (1) pair of posing hands (L&R)
COSTUME:
Three-quarter sleeve t-shirt
Utility vest
Duty belt
Cargo pants
Leather-like overcoat
Tactical boots
ACCESSORIES:
Two (2) handguns
One (1) machine gun
One (1) knife (fits into sheath on vest)
One (1) blast gun effect
One (1) firing gun effect
Each One:12 Collective Punisher figure is packaged in a collector friendly box, designed with collectors in mind.