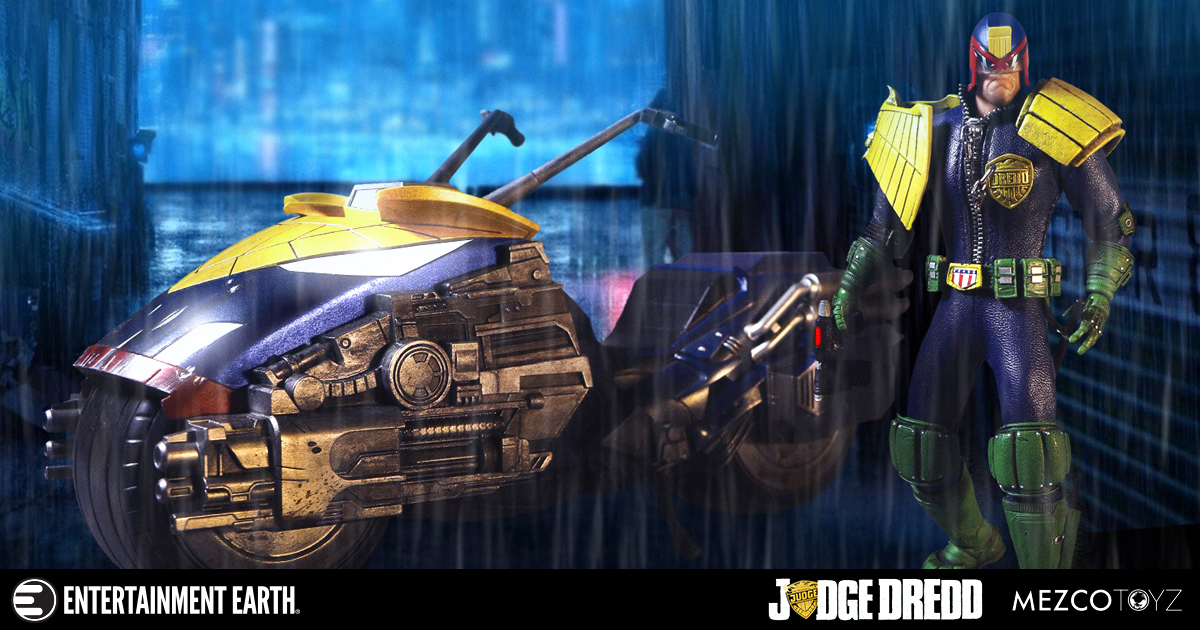 With anticipation for the possibility of a Judge Dredd TV series starting to gain some momentum and support for the possible return of Karl Urban in the role, the character has never been hotter. For lifelong fans, we could be coming up on the "golden age" for Judge Dredd, and for new fans this is the perfect time to get acquainted with the character. Mezco Toyz is giving the world a chance to do just that with their new Dark Blue Variant of their popular Lawmaster figure.
This variant of the Judge Dredd Lawmaster figure comes loaded with accessories for both him and his sweet ride. The figure itself comes in a real leather-like uniform, and comes with a translucent visor, handcuffs, boot knife, grenades, Lawgiver pistol and ammo, as well as six swappable hands so you can pose him with any of those weapons or while sitting on his sweet ride.
And speaking of that sweet bike, the Lawmaster comes with three FX activated twin guns with real light up functionality and sounds, as well as FX activated motor sounds to simulate the engine revving up. There are real working headlights in the front and back, as well as turning handle bars for even cooler posing possibilities.
There is a ton of stuff here and it can all be yours by heading over to Entertainment Earth and pre-ordering it now for just $195, and you can expect the law at your door when it ships this June.