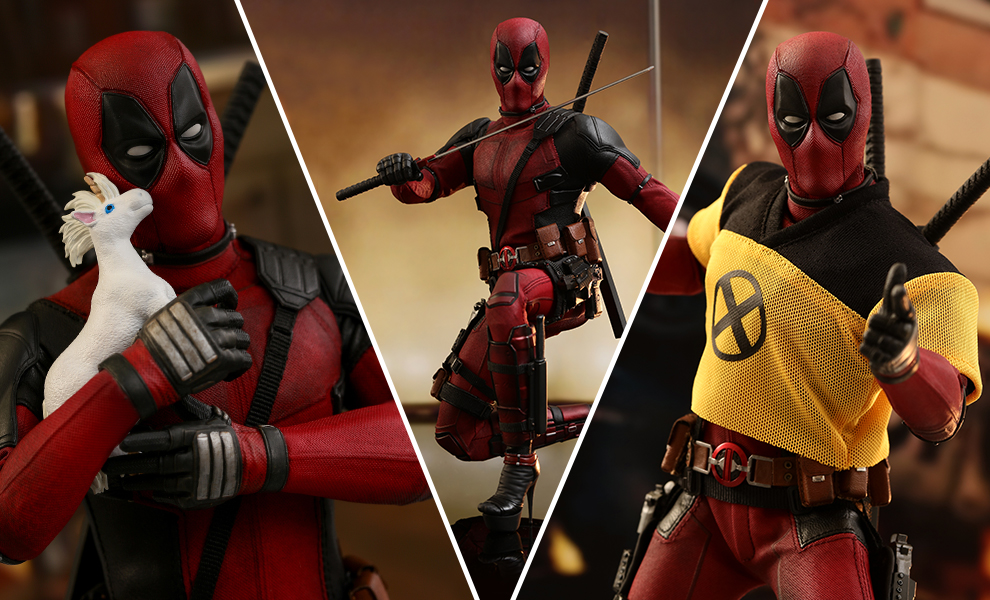 Deadpool 2 is easily one of the most anticipated films of the year and there are plenty of Deadpool toys out there for the sequel. But, Hot Toys is always on another level when it comes to collectibles and action figures. This is the best Deadpool movie figure I have ever seen, but I do have one issue with it. Where is the Ryan Reynolds head sculpt? Hot Toys often includes swappable heads and it's odd that we don't have one with a likeness of Reynolds. When Hot Toys made a figure for the first Deadpool film, a head that featured the actor's likeness was also missing. There must be some sort of licensing issue, but it's hard to say. It's also hard to complain about a figure this cool. It really captures the essence of Deadpool with all the accessories and just its overall presence. The Deadpool 2 Sixth Scale Figure by Hot Toys is available for pre order from Sideshow.
From Hot Toys: 
ABOUT THIS SIXTH SCALE FIGURE
♪ I can see a new horizon underneath the blazin' sky ♪
♪ I'll be where the eagle's flying higher and higher ♪
Everyone's favorite foul-mouthed Merc is back! The red-suited mercenary otherwise known as Wade Wilson is battling time traveler Cable, to protect a fire-wielding mutant youth, while assembling some fellow mutants he calls X-Force, an offshoot of the X-Men.
To celebrate Deadpool 2, Sideshow and Hot Toys are thrilled to bring you the new Deadpool Sixth Scale Collectible figure.
The movie-accurate collectible figure is specially crafted based on the appearance of Deadpool from the film. It features a masked head sculpt with 5 pairs of interchangeable eyepieces to create numerous combinations of Deadpool's expressions, an iconic red and black Deadpool suit made with new materials and excellent tailoring. The figure also specially features Deadpool's signature weapons including a pair of metal swords, a dagger, and pistols, DP's favorite mystical animal toy unicorn, a pair of interchangeable high heels, an X-Men Trainee jersey, a wearable neck device, and a variety of interchangeable hands available for different gestures. This figure also includes a specially designed Deadpool 2 themed dynamic figure stand perfect for aerial poses!
The latest Deadpool collectible figure will definitely be an incredible and unconventional addition to your Marvel superhero collection!
License

Marvel

Type

Sixth Scale Figure

Manufacturer

Hot Toys
Artists
Kojun (Head Sculpt)

JC. Hong (Head Paint & Art Direction)
WHAT'S IN THE BOX?
The Deadpool Sixth Scale Collectible Figure specially features:
An authentic and detailed likeness of Deadpool in Deadpool 2 movie

A Deadpool head with five (5) interchangeable eyes pieces that can create numerous combinations of Deadpool's expressions

Approximately 31 cm tall

Body with over 30 points of articulation

Twelve (12) pieces of interchangeable gloved hands including:
– One (1) pair of fists
– One (1) pair of relaxed hands
– One (1) pair of katana holding hands
– One (1) pair of gun holding hands
– One (1) pair of finger pointing hands
– One (1) thumbs-up right hand
– One (1) OK-sign left hand

 Each piece of head sculpt is specially hand-painted
Costume:
One (1) specially tailored red and black-colored leather-like Deadpool suit

One (1) black and yellow-colored X-Men Trainee jersey

One (1) brown-colored leather-like belt with metallic red buckle

One (1) pair of thigh gun holsters

One (1) dagger sheath on shin

One (1) pair of metallic red and black-colored boots

One (1) pair of interchangeable black-colored high heels
Weapons:
One (1) dagger

Two (2) metal katanas

Two (2) pistols

Two (2) shurikens
Accessories:
One (1) pair of katana sheaths

One (1) wearable neck device

One (1) unicorn doll

A specially designed Deadpool 2 dynamic figure stand with Deadpool nameplate, movie logo, and backdrop