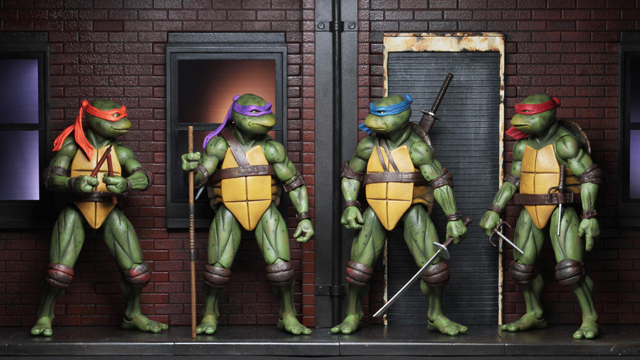 With new toys dropping daily and pre-orders popping up all over the place, it's tough to keep track of all of the latest in the world of action figures and collectible toys. With that being said, here's a roundup of some of the best toy news from the past few days, including new action figures from NECA like Jason Voorhees and TMNT SDCC 2018 Exclusives, Funko Pop! Gargoyles collectibles, a look at the latest Marvel Legends Venom Wave, Sideshow's Stealth Suit Iron Man Statue and more.
TMNT 1990 7″ Inch Scale Action Figure Box Set (SDCC 2018 Exclusive)
NECA never disappoints when it comes to Comic-Con exclusives (or even Turtle talk for that matter), and this year is no different. If you're planning on attending SDCC 2018, then this Teenage Mutant Ninja Turtles 1990 7″ Inch Scale Action Figure Box Set can be yours to grab. Featuring scaled down versions of the popular 1/4 scale TMNT classic movie figures NECA has released, this box set is based on the 1990 TMNT movie, equipped with interchangeable hands, pizza, swap out plastic and fabric bandanas. The figures will also have more articulation than the 1/4 scale versions for more posing power, priced at $125 and limited to 5,000 sets.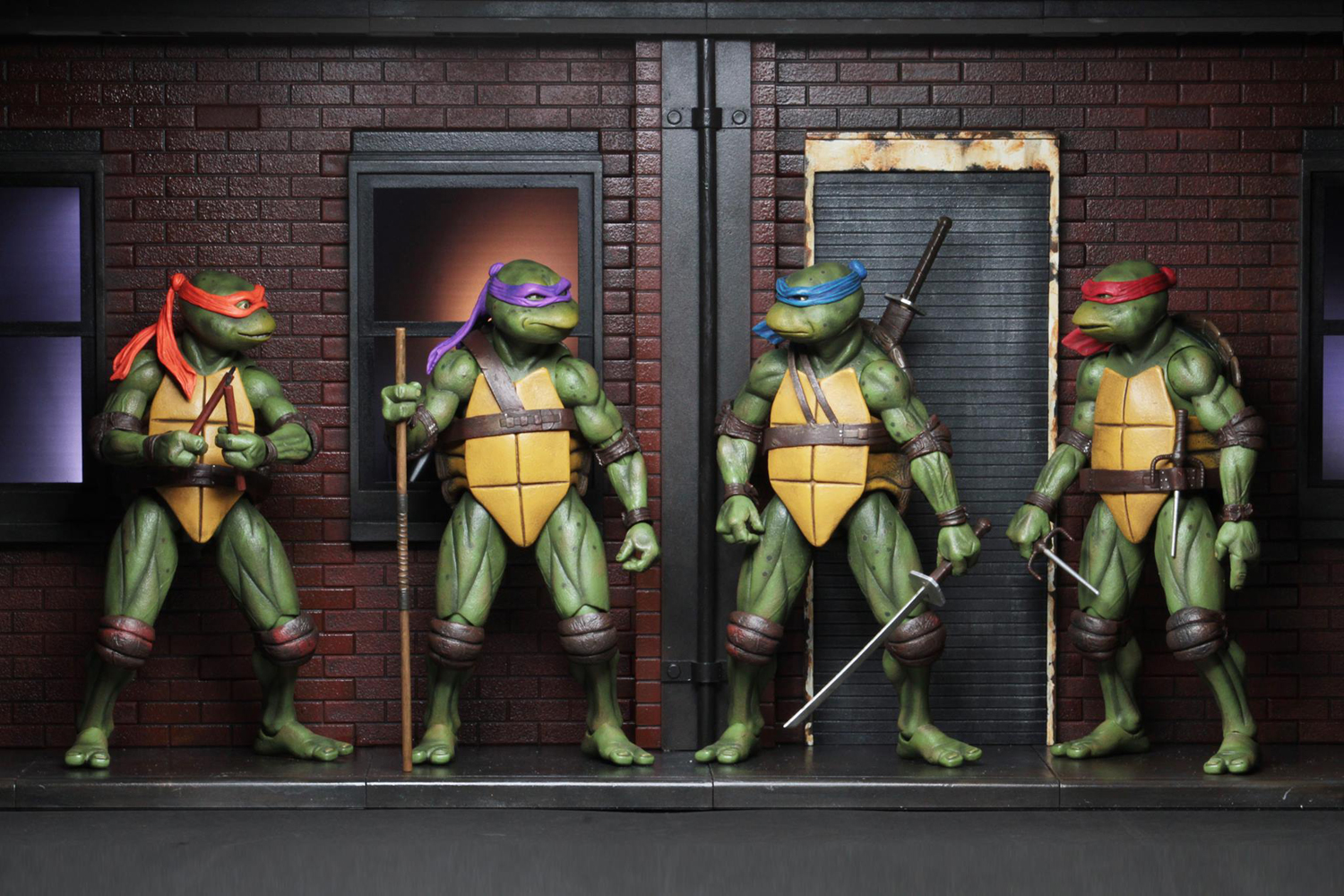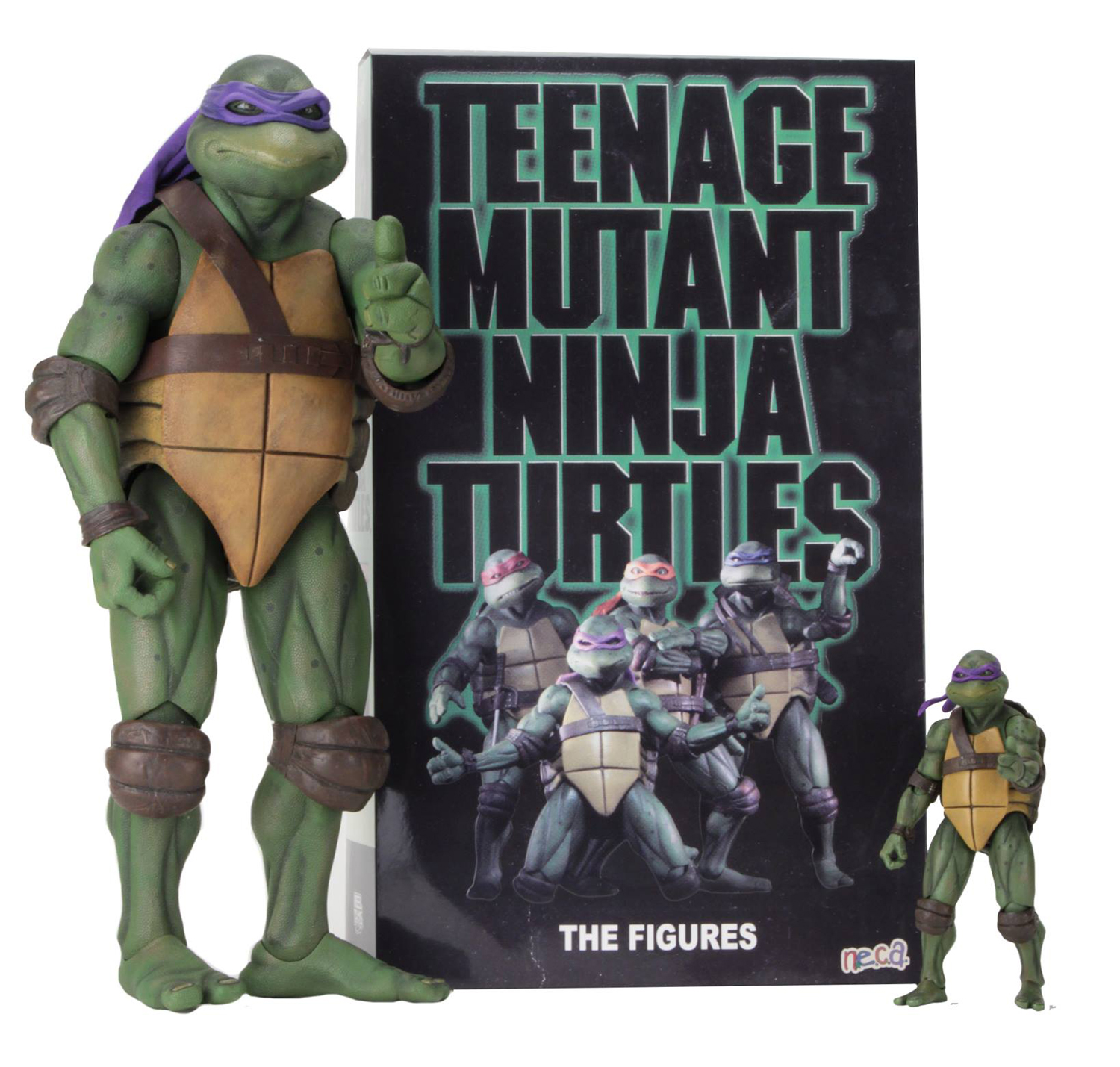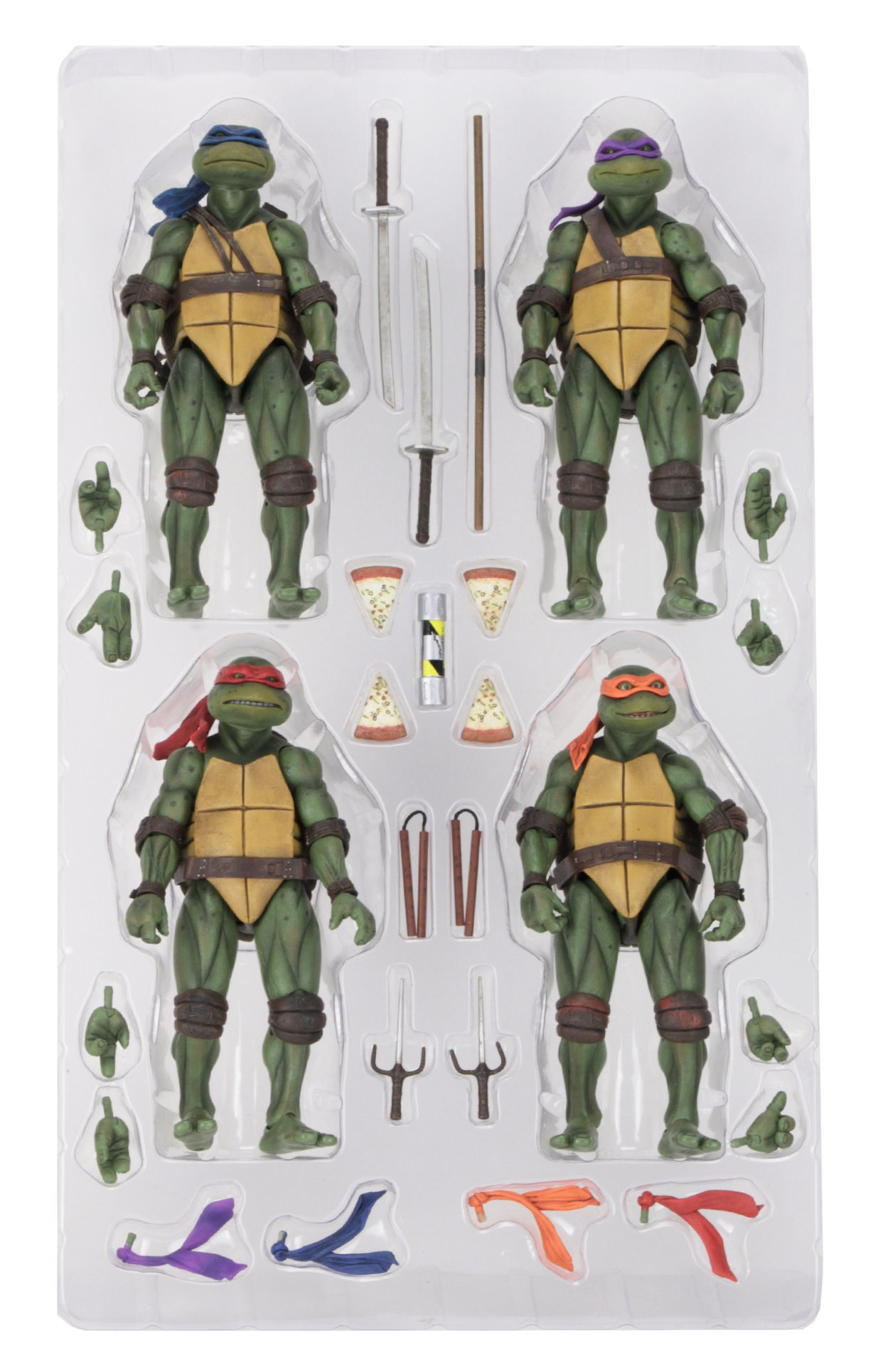 ---
Friday the 13th Part V – A New Beginning  – Dream Sequence Jason Voorhees Ultimate Action Figure (NECA)
When it comes to slasher flicks, Jason Voorhees is about as creepy as it gets. And that's probably why NECA continues to crank out new action figures for horror film fans based on all of his appearances in the Friday the 13th franchise. This latest offering mimics his look from Friday the 13th: A New Beginning, as he appears in the nightmares that haunt Tommy, who's been living in mental institutions since he killed Jason in Part 4.
This deluxe 7" scale action figure features over 25 points of articulation and comes with 4 unique, interchangeable heads to represent different dreams (bloody mask, resurrection mask, grave mask and a special mask based on the one-sheet poster). It's also packed with plenty of accessories like a machete, axe, ice pick, and tombstone. An added bonus is an extra left hand with split fingers that can be used with this figure or the Ultimate Part 4 Jason. Set to ship in September, you can pre-order this NECA Jason figure here.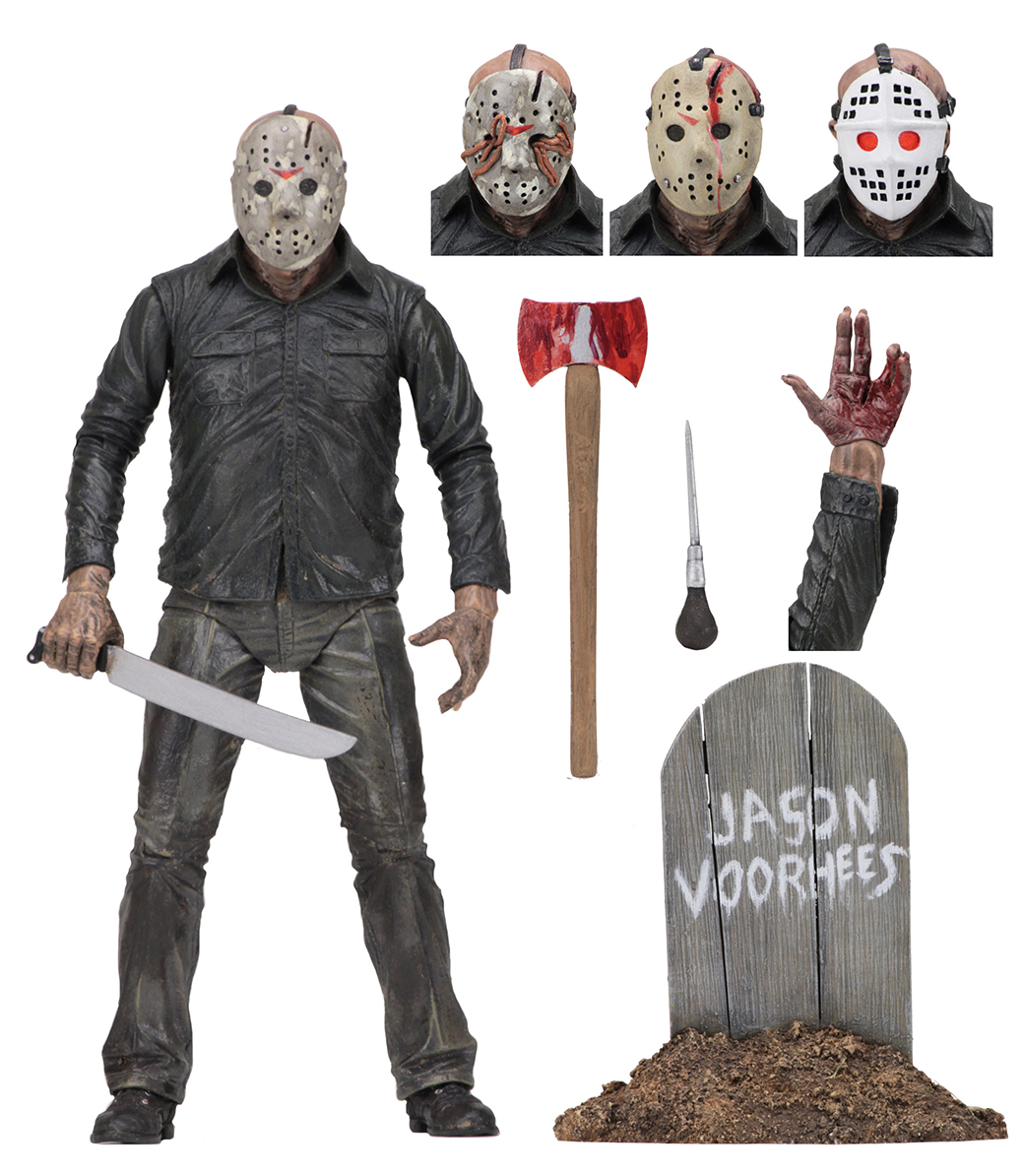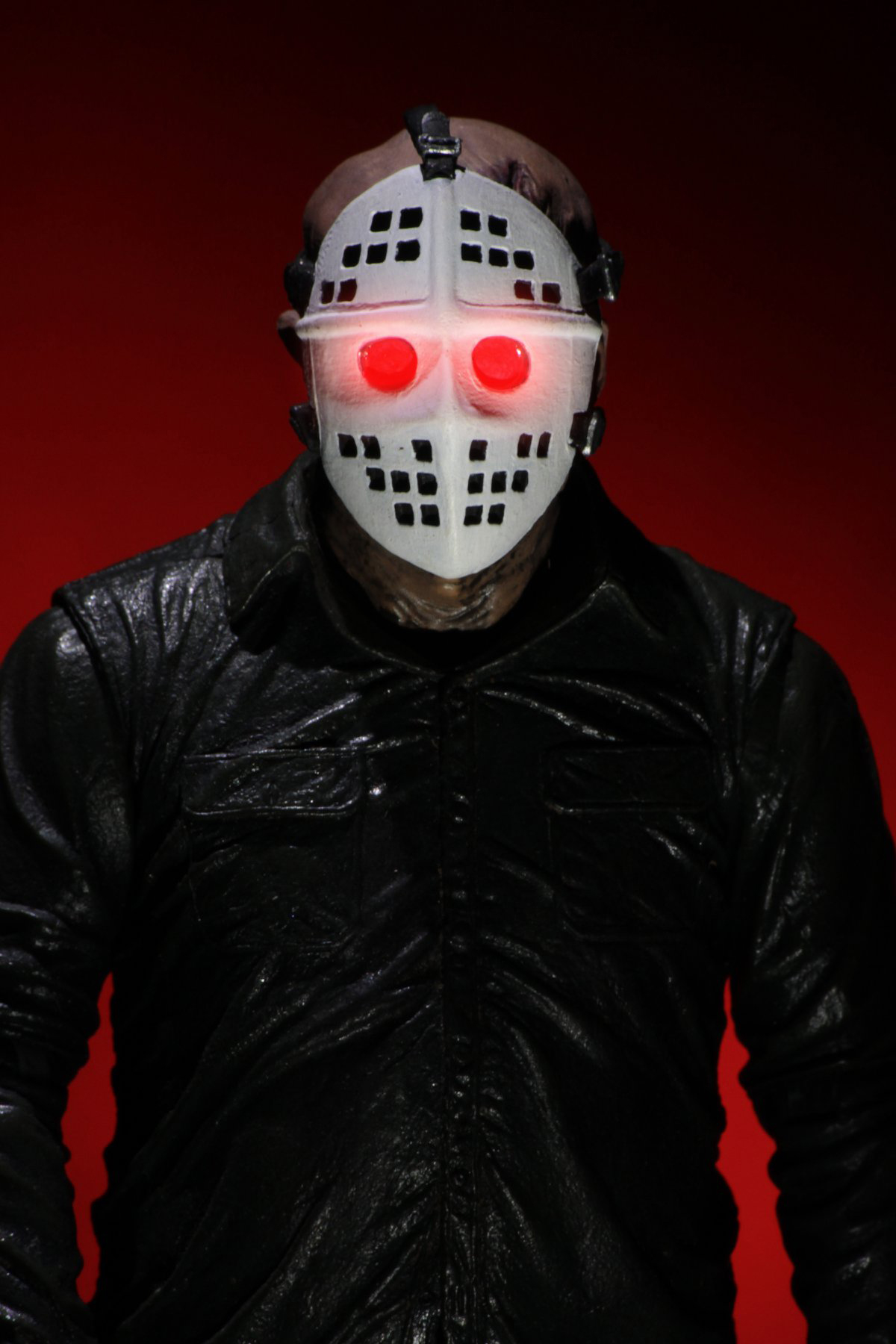 ---
Funko Gargoyles Pop! Vinyl Figures and Pocket Pop! Keychains
Funko's got fans of Gargoyles covered from a collector's standpoint with this new assortment of Pop! Vinyl Figures and Pocket Pop! Keychains. All of your favorites are included in the collection like Goliath, Bronx, Brooklyn, Demona, Lexington and Broadway. There are even some stone colored exclusives available as well. Coming in August, you can pre-order the Gargoyles Pop! collectibles here.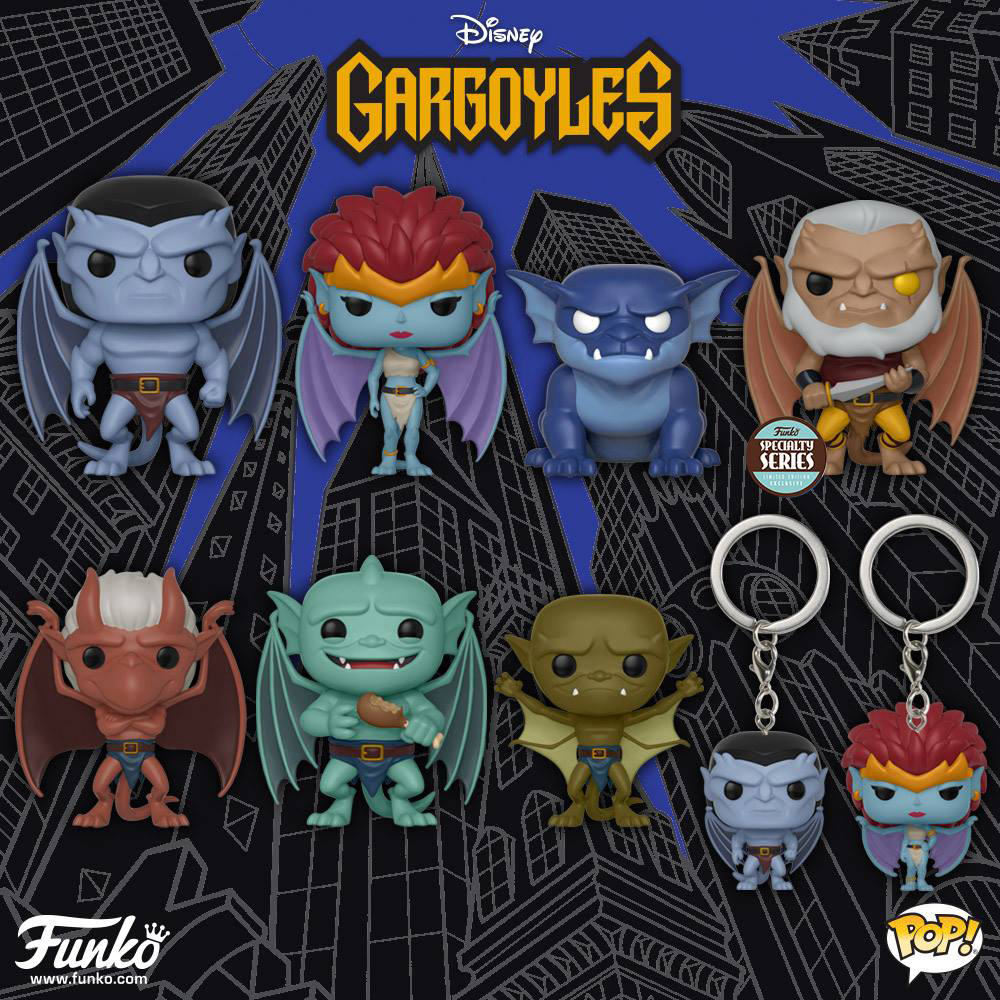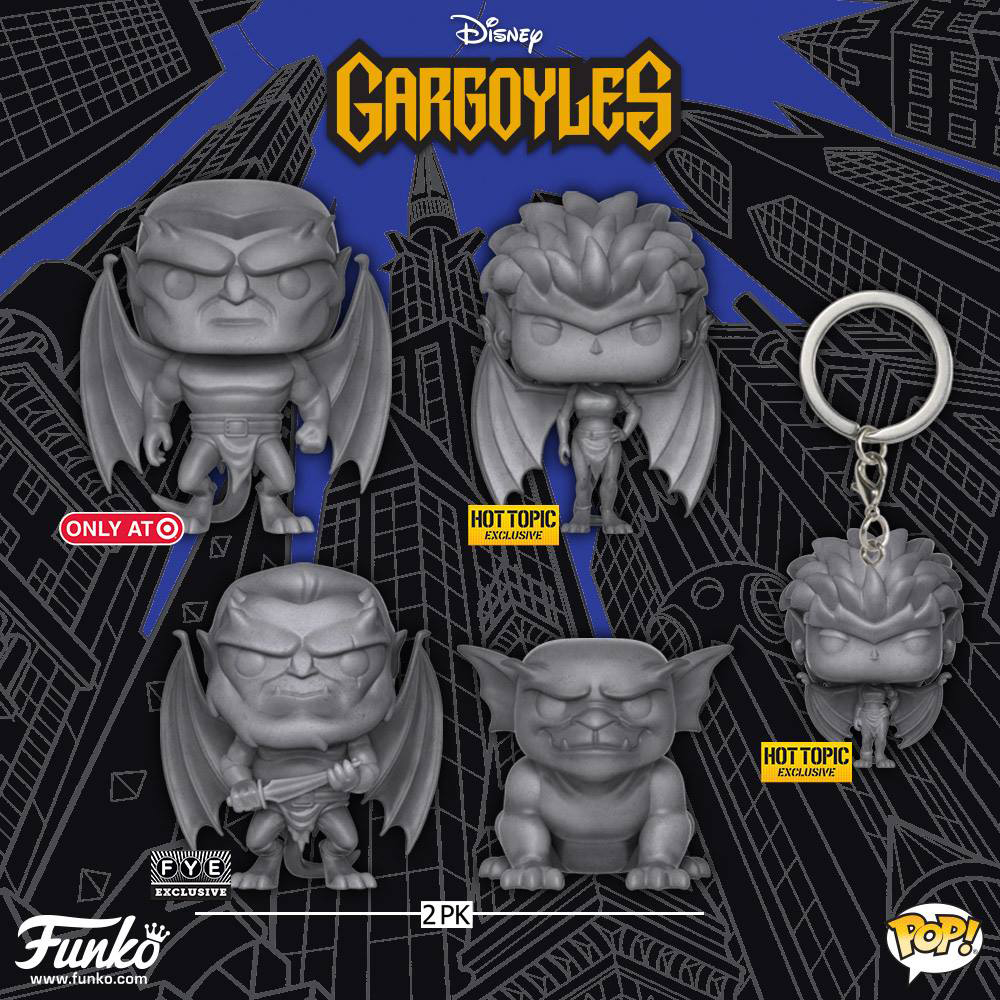 ---
Sideshow Avengers Assemble Iron Man (Stealth Suit) Statue
A new blue Stealth Suit Iron Man Statue has been added to Sideshow's Avengers Assemble Collection and it's now available for pre-order. Joining The Hulk, Thor, Wasp, Captain America, and other versions of Iron Man, this Stealth Suit version is limited to 500, measures 5.75" tall, and features a light-up function in the hands, chest, and eyes. Estimated to arrive towards the end of 2018, you can pre-order now at Sideshow.com.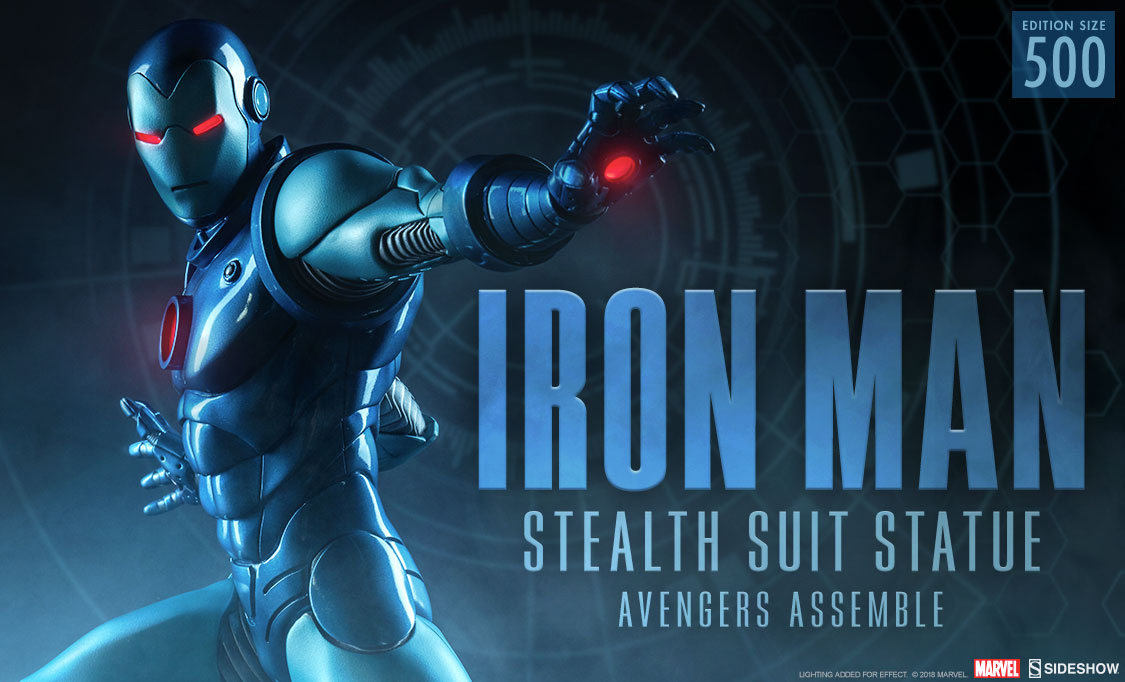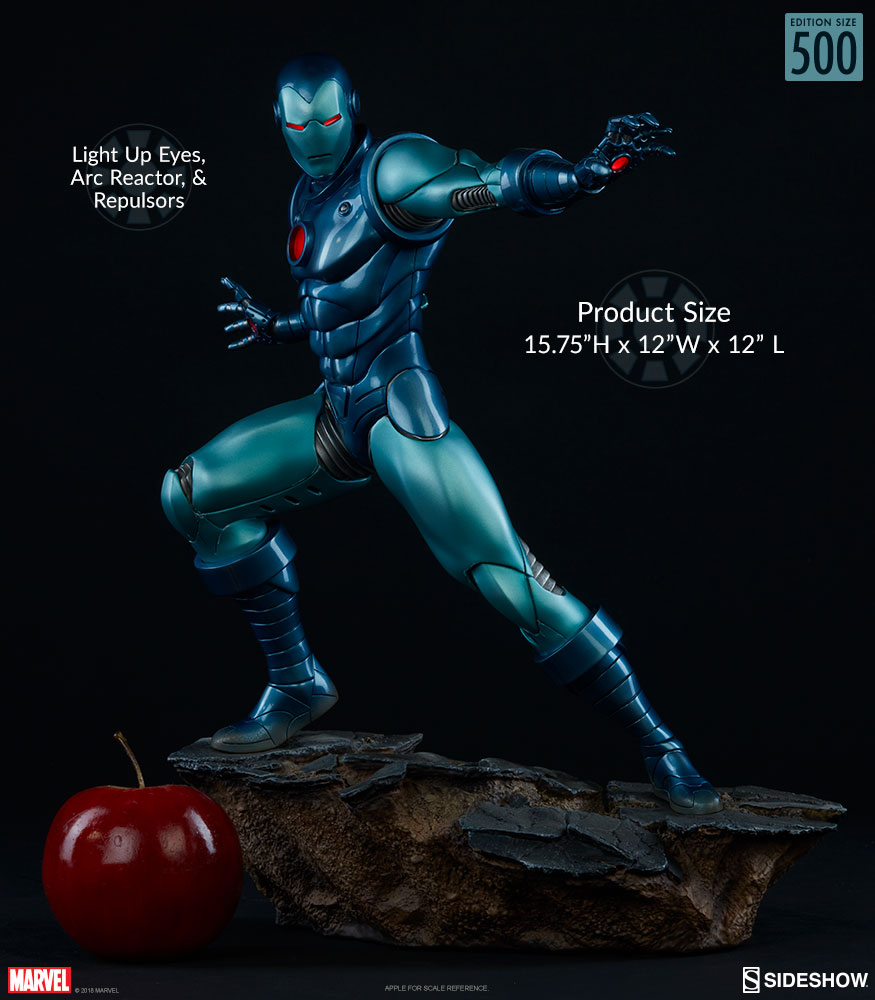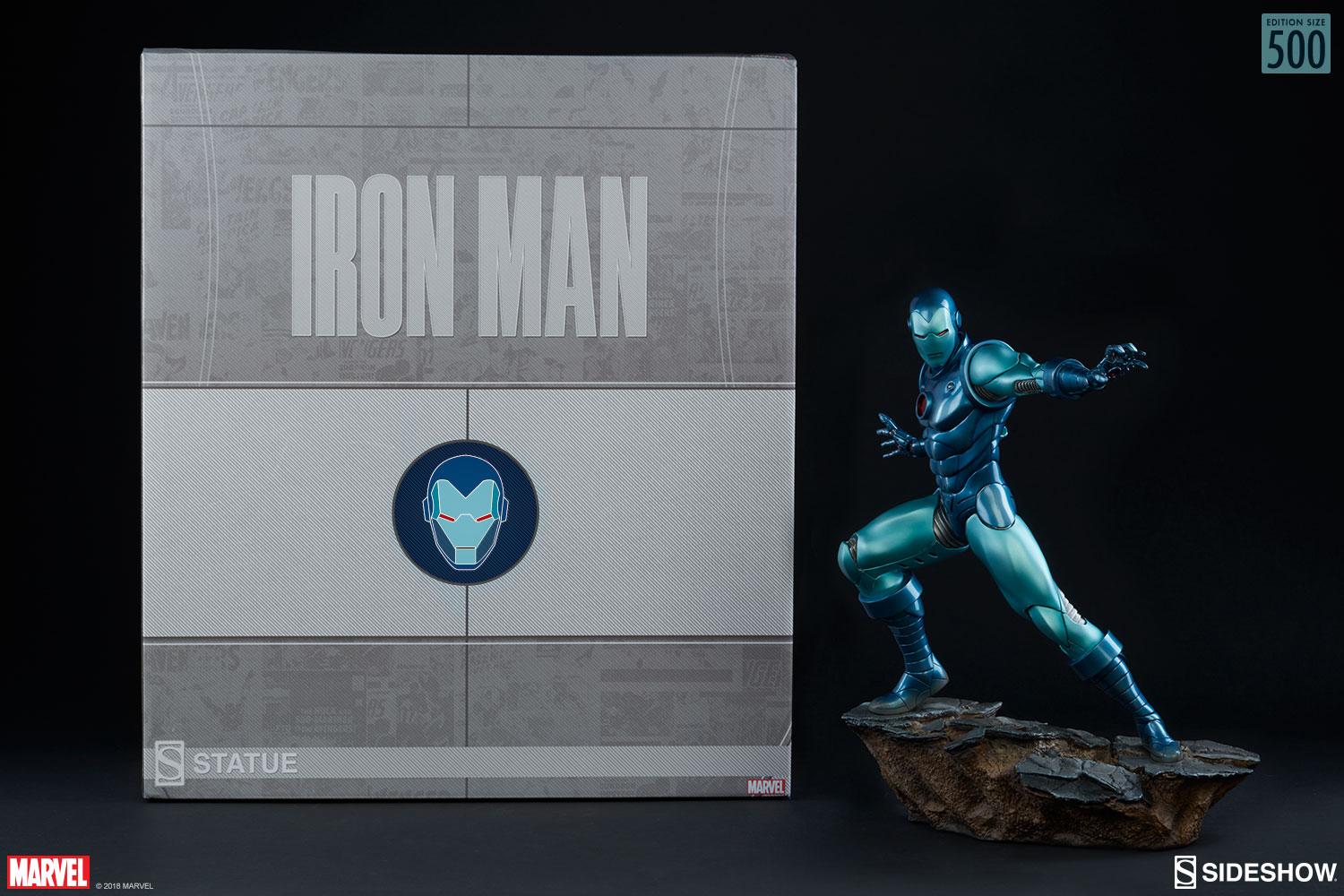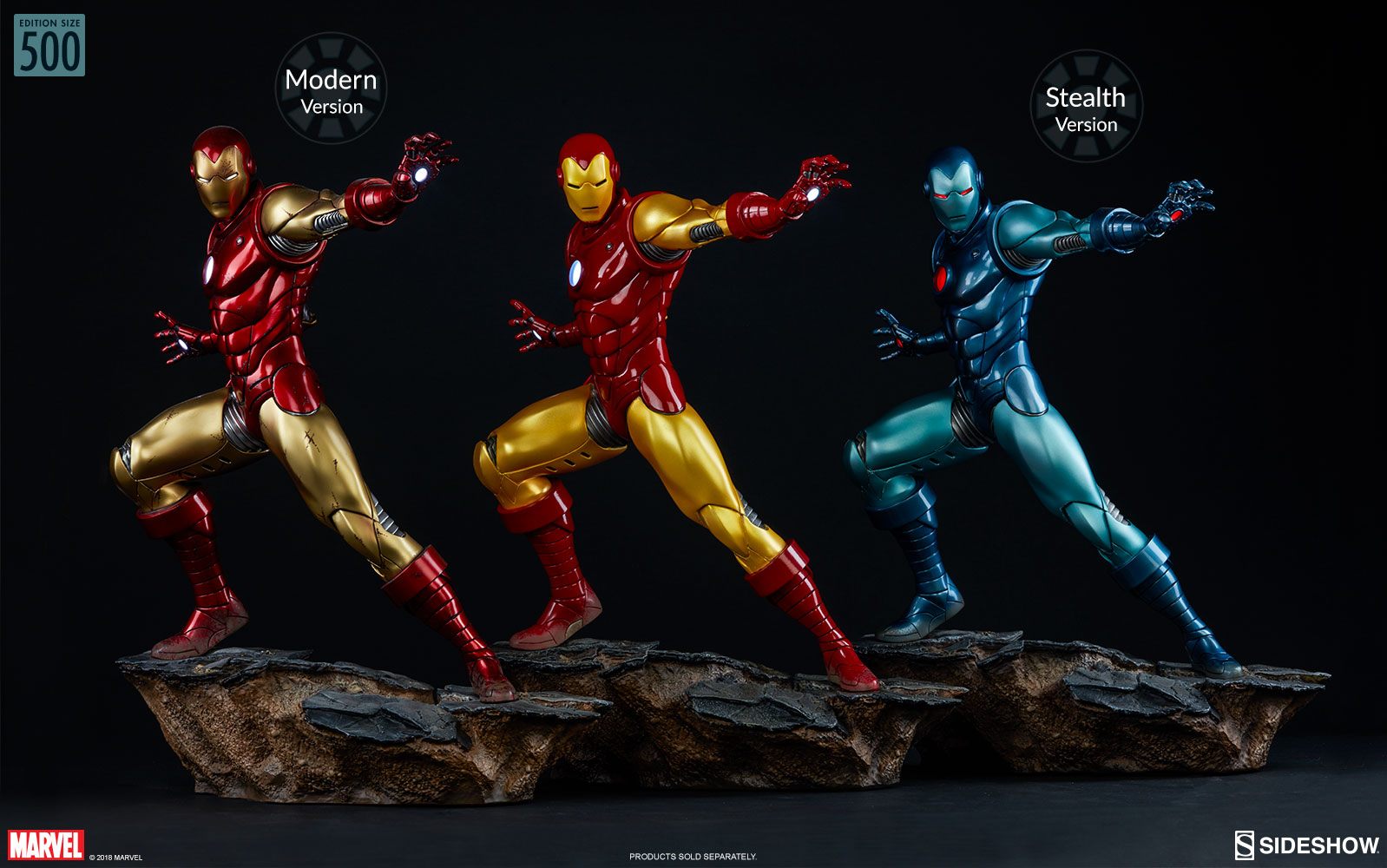 ---
Marvel Legends Venom Wave Coming Soon
Marvel is bringing Venom to the big screen later on this year and to get you pumped up for the upcoming film is this preview of the Marvel Legends Venom Wave Action Figures that are coming soon. Due out in Fall 2018, included in the wave are Venom, Carnage, Poison, Scream, Spider-Ham, Typhoid Mary, and the Build A Figure (BAF) Monster Venom. Watch for pre-order info plus other details any day now.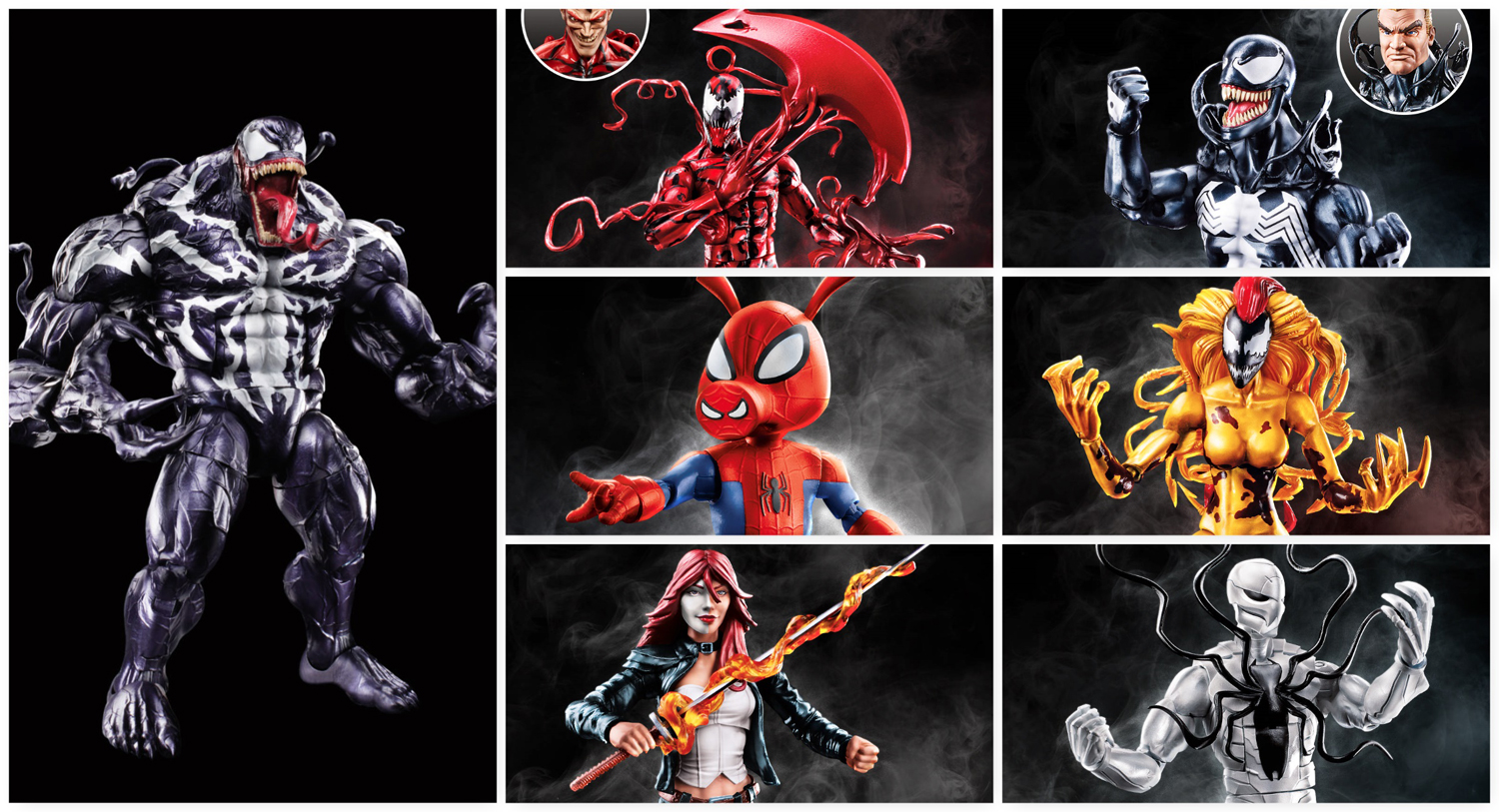 ---
Steel Age Batman (Steel Detective) 1/6th Scale Figure by 3A
3A's Ashley Wood has a way of reimagining superheros in a unique style, and this latest Steel Detective spin on the Steel Age Batman 1/6th Scale Figure brings a robotic twist to the Dark Knight. Featuring a classic grey and blue color scheme, the Steel Detective Edition Batman figure stands 14″ tall and features LED illuminated eyes, 50 points of articulation including fingers and segmented neck armor, with cloth fabric outfit, utility belt, and cape evoking the classic Silver Age look, complete with oversized blister card style packaging.