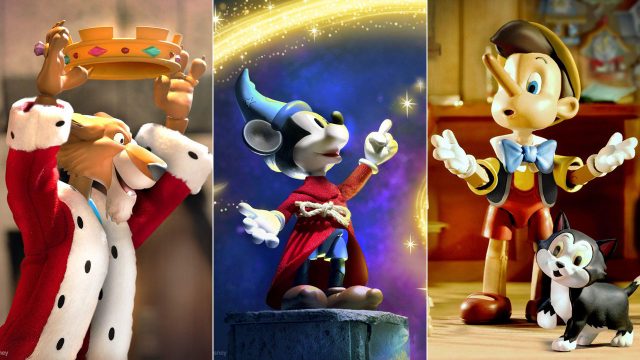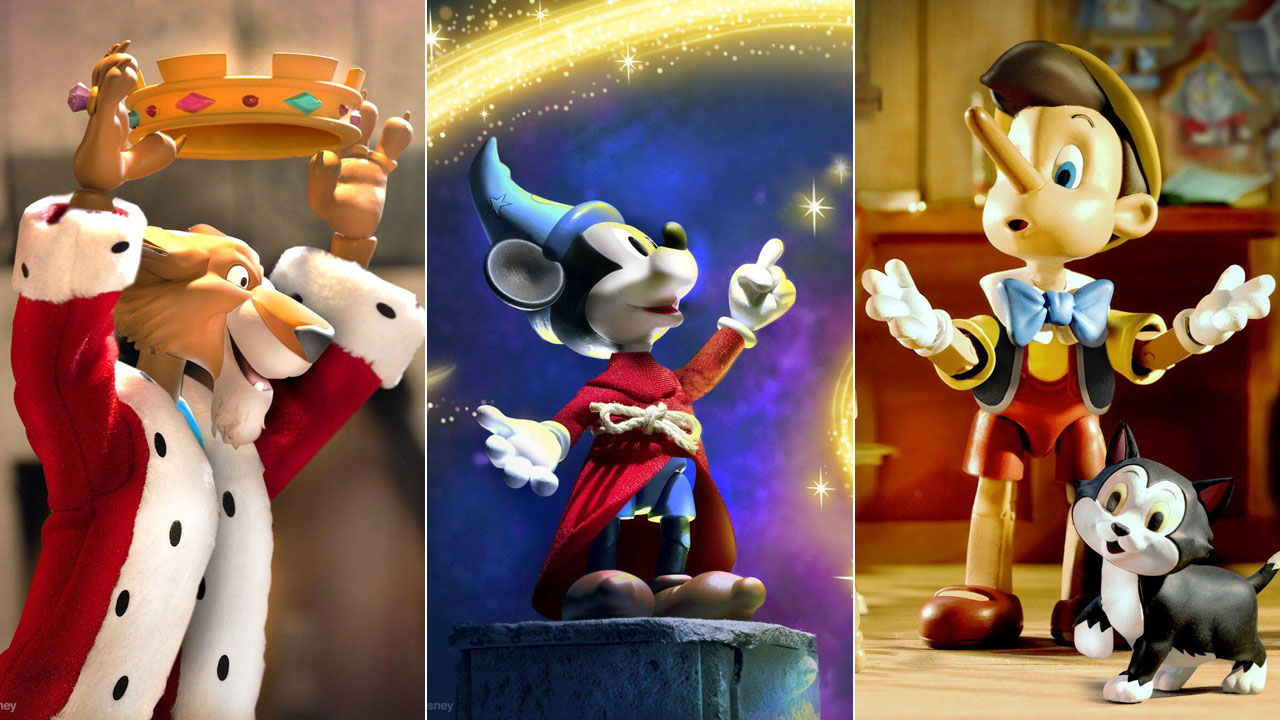 Pre-orders for Super7's Disney Ultimates Figures have opened up, along with official images of the first three figures from the upcoming line. Included in the first series are the Fantasia Sorceror's Apprentice Mickey Mouse Action Figure, Pinocchio Action Figure (with Jiminy Cricket and Figaro the Cat,) and Robin Hood Prince John with Sir Hiss Action Figure. Each figure stands at 7-inch scale, equipped with a number of interchangeable parts and accessories based on the movies they appear in. Priced at approximately $45 each, you can pre-order all three figures below. Also included below is the official press release from Super7.
Super7 Disney Ultimates Mickey Mouse Action Figure
SHOP NOW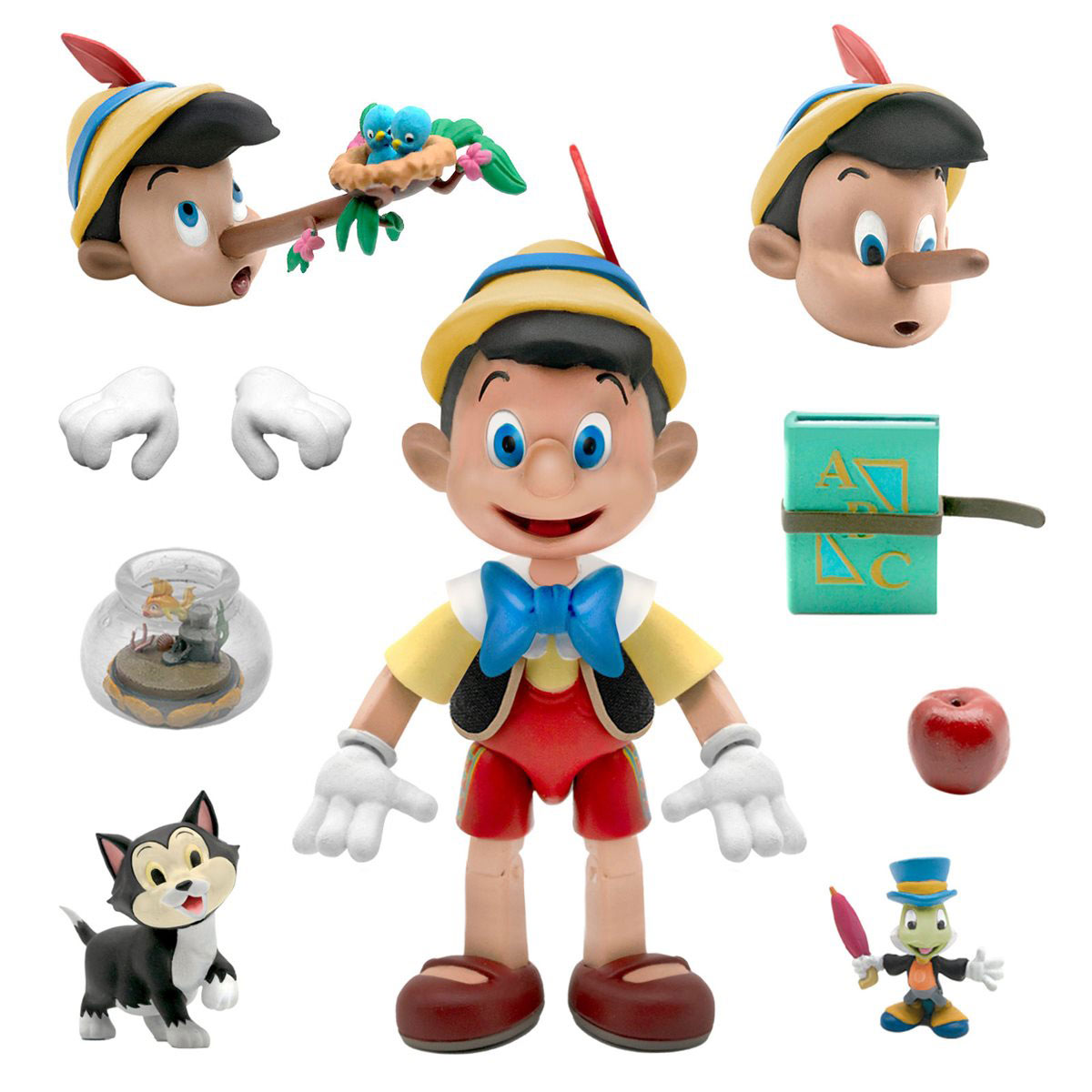 Super7 Disney Ultimates Pinocchio Action Figure
SHOP NOW

Super7 Disney Ultimates Prince John Action Figure
---
Press Release:
San Francisco, California – August 5, 2020 –
What do you get when you cross a fanatical bunch of toy makers with one of the most imaginative brands on earth?
Pure magic.
We are thrilled to announce the beginning of what we imagine will be an amazing creative  partnership between Super7 and our childhood heroes over at Disney. It begins today, with the launch of our first three Disney collectibles: a trio of Ultimates! Figures commemorating some of our favorite characters from the formative years of the Magic Kingdom. It will continue with…well, you'll just have to wait and see.
Ultimates! Figures are the perfect medium for our Disney launch. They provide an opportunity to serve up all bells and whistles; the ability to create something truly unique for both the Super7 and Disney obsessive fan. Our approach, as with everything, was to dig beneath the surface to find the spirit and the angles that allow us to make the toys we always wanted. The details expressed in each Ultimates! Figure are unrivaled; exactly what you want when you're working with the classics. And the care taken to create each? That, too, is on another level.
As to who gets this very special treatment, we dove deep and emerged with a few that have always held a special place in our hearts. Ones that represent the Super7 way of looking at the world. Here's the exclusive lineup: 
Sorcerer's Apprentice Mickey Mouse
From the timeless animated classic Fantasia comes Mickey Mouse, in the role that captured our imaginations as far back as we can remember. We used that same kind of big dreaming, hustle, know-how and a little bit of magic to bring this little marvel to life. Our first Disney toy ever is super poseable and features three interchangeable expressive heads, interchangeable hands, two water buckets, animated broom, axe and the Sorcerer's giant spell book. The Ultimates Sorcerer's Apprentice is also dressed in a tailored, velvety-soft wizard robe with a real rope tied waistband.
Pinocchio
One of the darkest, wildest, most incredible stories ever set to animation cels, Pinocchio gave us nightmares for years, and a hard-won set of lessons for the rest of our lives. The puppet with a penchant for tall tales and a curiosity for life reflected our deep yearning for adventure, and to fit in – perfectly telling the tale of becoming the person you're meant to be. Super7's Ultimates! Pinocchio is a super poseable action figure with 3 interchangeable heads showing his growing nose, interchangeable hands, his conscience Jiminy Cricket (of course), school book, axe, apple, Cleo's fishbowl, Figaro the Cat, and a smart fabric vest with gold trim.
Prince John
Truly one of the great cartoon villains, Prince John and his maneless, spineless monarchy is a masterclass in political mismanagement; one he pays dearly for. Particularly with Robin Hood stealing John's resources any time his back is turned. The Prince John Ultimates! super poseable action figure features three interchangeable heads, interchangeable hands with and without the jewels of his rings, two versions of the slithering assistant Sir Hiss, a vanity mirror, and a luxurious, plush velvet regal robe with fur trim.
All three characters are now available at preorder.super7store.com. They can be purchased individually at $45 or in a set for $135 from August 5th to September 5th.
Once again, we're thrilled that Disney has given us this rare opportunity to bring our point of view to characters and experiences that helped define our own childhood. We hope you like them—and we can't wait to show you what else we're making from our favorite Disney moments from film, TV, and Parks.
Signed,
The Super7 Crew
ABOUT SUPER7
Founded in 2001, Super7® is the premier pop-culture design house and producer of lifestyle-oriented collectibles, toys and apparel based in San Francisco. Led by designer Brian Flynn, Super7® has harnessed the graphics, aesthetics and energy of his youthful obsession with science fiction, giant monsters, comic books, punk rock, skateboarding, robots and rebellion to build a unique and innovative business that crosses all categories and is not bound by traditional manufacturing boundaries. Besides its own branded products, Super7 has also designed, manufactured, and distributed officially licensed programs for Star Wars, Masters of the Universe, the original Alien and Planet of the Apes movies, as well as for music legends Iron Maiden, the Misfits, and King Diamond.
ABOUT DISNEY PARKS, EXPERIENCES AND PRODUCTS
Disney Parks, Experiences and Products brings the magic of The Walt Disney Company's powerful brands and franchises—including Disney, Pixar, Marvel, Star Wars, ESPN, Twentieth Century Studios and National Geographic—into the daily lives of families and fans around the world to create magical memories that last a lifetime. When Walt Disney opened Disneyland in Anaheim, California, on July 17, 1955, he created a unique destination built around storytelling and immersive experiences, ushering in a new era of family entertainment. More than 60 years later, Disney has grown into one of the world's leading providers of family travel and leisure experiences, with iconic businesses including six resort destinations with 12 theme parks and 53 resorts in the United States, Europe and Asia with more than 170,000 cast members; a top-rated cruise line with four ships and plans for three more to be completed in 2021, 2022 and 2023; a luxurious family beach resort in Hawaii; a popular vacation ownership program; and an award-winning guided family adventure business. Disney's global consumer products operations include the world's leading licensing business; one of the world's largest children's publishing brands; one of the world's largest licensors of games across platforms; more than 300 Disney store locations around the world; and the shopDisney e-commerce platform. These experiences are created by Disney Imagineers, the creative force behind experiences found in Disney theme parks, resort hotels, cruise ships and consumer products—including books, games and merchandise.