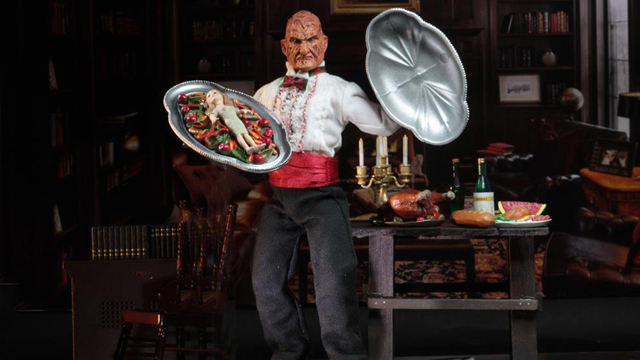 NECA has created quite a few 8-inch figures that are definitely inspired by the classic Mego action figures. The size of the figures, along with the cloth clothing, allow the figures to have that retro Mego feel. The packaging also includes impressive artwork that really makes the entire thing feel special. This Chef Freddy figure from NECA is as creepy as it comes, based on his appearance in A Nightmare on Elm Street 5: The Dream Child, and is now available for pre-order from Entertainment Earth. It will ship in September 2018.
From Entertainment Earth: 
Bon appetit! From the cult classic Nightmare on Elm Street movies, this clothed action figure is based on Freddy's memorable appearance as a chef in The Dream Child! Freddy stands 8-inches tall and is fully articulated. He comes with a chef hat and a gruesome serving tray with removable lid. The figure is packaged in a blister card resealable protective clamshell and features custom artwork created by Nathan Thomas Milliner just for this release!