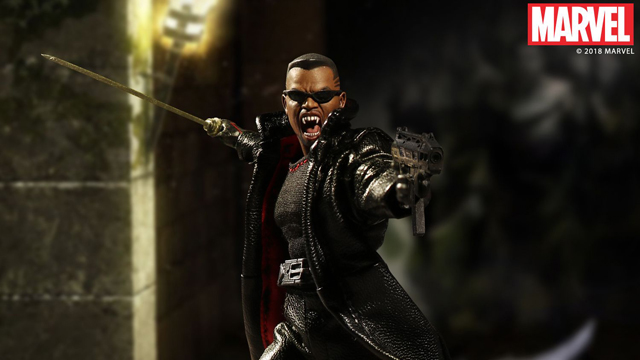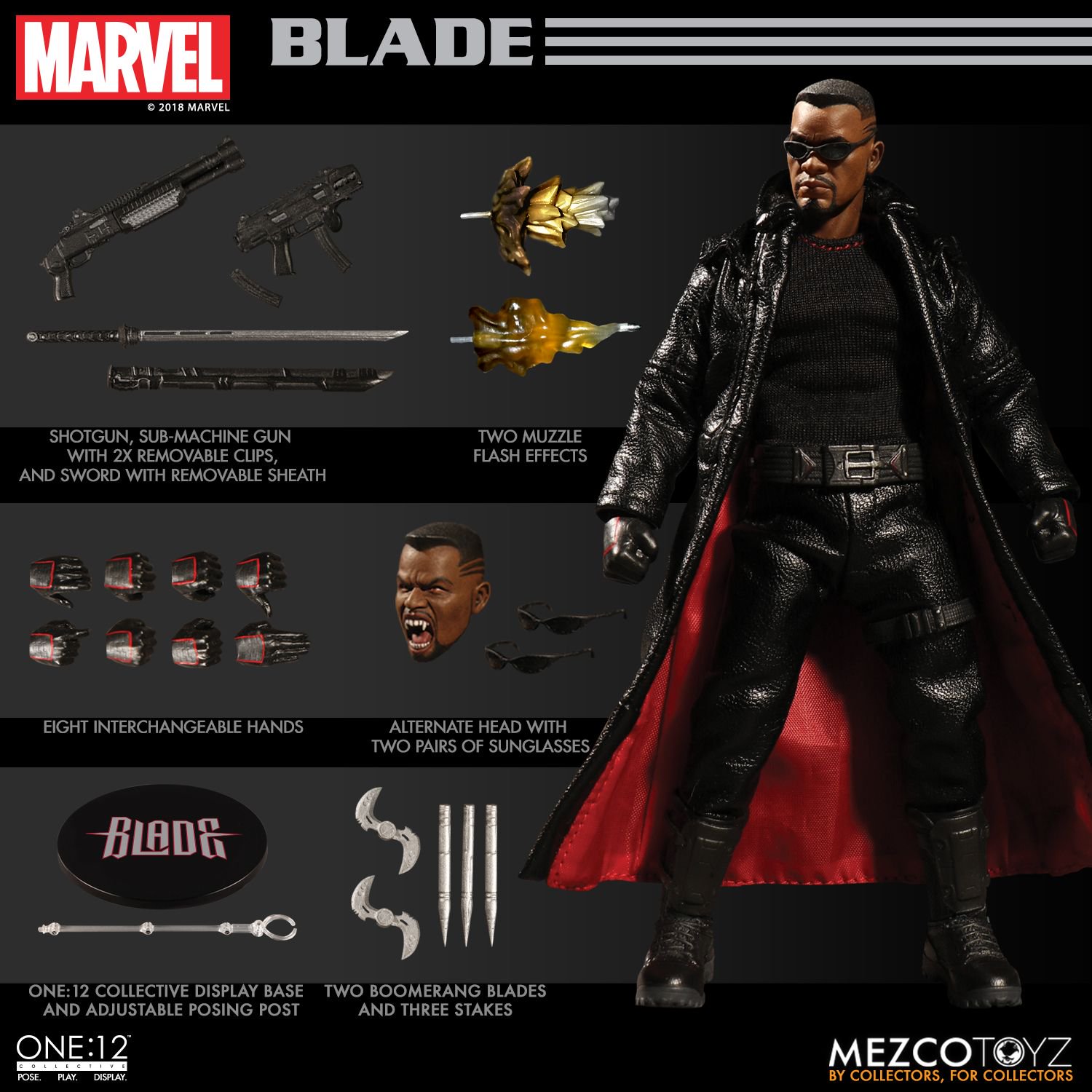 Mezco continues to do an excellent job of bringing us action figures of characters we don't see a lot of in the toy aisles. Their recent Popeye announcement proves that they are interested in giving us characters that aren't oversaturated with collectibles. This new Blade figure from Mezco is based on the Marvel character's comic book appearances. Now, I have to admit that I'm disappointed that this likeness isn't based on Wesley Snipes and his portrayal of the character in the Blade movies. The likeness is definitely close enough that it won't be hard for collectors to pretend that it is the iconic actor. Regardless of what this One:12 Collective Action Figure is based on, it is an awesome piece. It features a ton of accessories and excellent articulation—things that have become synonymous at this point with Mezco's One:12 Collective line. The figure is up for pre order right now at Entertainment Earth and will ship in November.
From Entertainment Earth:  
The Blade One:12 Collective Action Figure features two intricately detailed head portraits: an unwelcoming scowl and a bloodcurdling roar. No details were overlooked when designing the infamous daywalker. His outfit boasts a leather-like black trench coat with an integrated wire for dynamic posing, as well as a tailored three-quarter sleeve t-shirt and motorcycle style pants. Blade comes well-equipped to hunt down creatures of the night with accessories including a customized submachine gun with removable magazines, a pump action shotgun, his signature sword with removable sheath, collapsible throwing blades, striking stakes, and of course, sunglasses.
Eric Brooks was being born when a vampire attacked his mother during childbirth, passing on a series of enzymes that transformed Eric into a Dhampir – a being tainted by a vampire's kiss, but not converted. Now infused with all of a vampire's powers but few of their weaknesses and determined to avenge his mother's death, Eric Brooks arms himself with weapons that are fatal to the undead and fashioned himself into the vampire hunter known as Blade.
The Blade One:12 Collective Action Figure Features:
1x pair of fists (L&R)
1x pair of sword-holding hands (L&R)
1x stake holding hand (L)
1x gun holding hand (R)
1x pair of holding hands (L&R)
2x head portraits
1x Tailored trench coat with integrated wire for dynamic posing (removable)
1x Three-quarter sleeve t-shirt
1x Belt (removable) with throwing blade sheath harness
1x Thigh harness for stakes
1x customized submachine gun with two (2) removable magazines
1x customized shotgun with pump action movement
1x sword with removable magnetic sheath
2x folding throwing blades
3x stakes
2x pairs of removable sunglasses
1x blast gun effect
1x firing gun effect