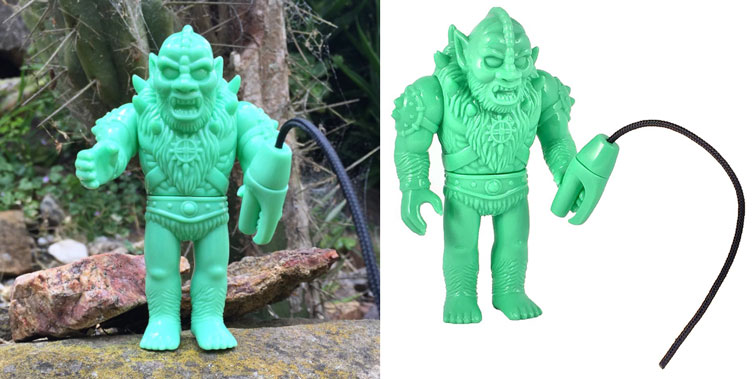 Heads up MOTU maniacs, Super7 has something else special planned for the Power-Con: He-Man and She-Ra Toy & Comic Book Experience that's taking place in Los Angeles on June 4th and 5th with this exclusive Masters of the Universe Prototype Green Beastman Vinyl Figure.
Created in collaboration with Japanese vinyl toy company Gargamel, this 5″ tall Beastman action figure reimagines what the beastly MOTU character might've looked like if Masters of the Universe had launched in Japan in the early 80's instead of in America. The Power-Con exclusive Beastman figure comes in prototype unpainted light green vinyl for pure rawness, along with his mean-looking whip, available alongside the Super7 Power-Con Exclusive Slime Green M.O.T.U.S.C.L.E. Figures that are also launching at the event.
If you plan on attending Power-Con this weekend, be sure to add this Beastman figure from Super7 and Garagamel to your "must-grab" list of exclusive convention collectibles. Can't make it to the show? Click here to check out some other cool MOTU action figures and toy collectibles from Super7.
Click here to check out more action figures and toy collectibles from Super7.