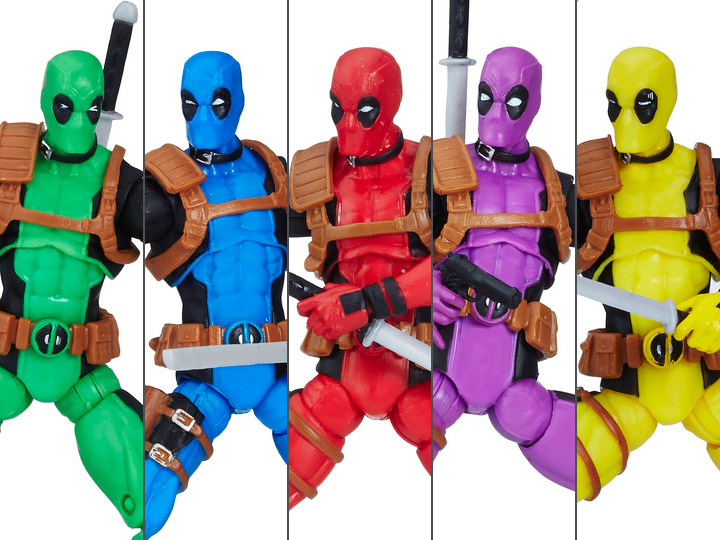 The hype for Deadpool 2 is now in full swing. Deadpool is without a doubt one of the most beloved comic book characters and there are plenty of action figures out there of the Merc with a Mouth. This Hasbro Marvel Legends Deadpool's Rainbow Squad 5 Pack features 3 inch scaled action figures. It's always exciting to see figures in this scale…especially now that 6 inch figures have kind of taken over the hobby. This Marvel Legends Deadpool's Rainbow Squad Pack is now available for pre-order from Entertainment Earth and will ship in June.
Info from Entertainment Earth: 
Deadpool is hiring, and boy, are the benefits great. Tight, colorful spandex suits, a bunch of weapons, and hit-list to die for – literally! Just one rule: hands off the red suit – that's reserved for one Wade Winston Wilson. Collect figures like Deadpool collects heartless mercenaries with the Marvel Legends Deadpool's Rainbow Squad 5-pack, featuring Marvel's Solo, Marvel's Terror, Marvel's Slapstick, Foolkiller, and Deadpool figures. Each figure features multiple points of articulation, Deadpool-inspired design, and multiple mercenary-inspired accessories. Only the best and brightest for Deadpool! Includes 5 3 3/4-inch action figures and 20 accessories.