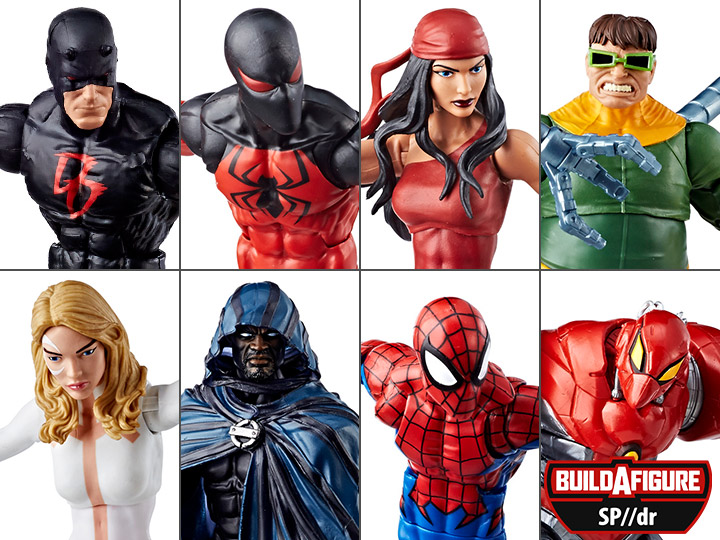 Hasbro and its line of Marvel Legends is consistently putting together excellent Waves of figures that make you want every character in the set. But, this Amazing Spider Man Wave 10 is filled with an all-star list of characters that makes it one of the most desirable Waves I can remember. The Wave includes Daredevil, Electra, Spider-Man, Doc Ock, Cloak, Dagger and Scarlett Spider. If you collect all the figures you can assemble SP//dr suit. You can pre-order from Entertainment Earth and the entire Wave will ship in July 2018.
From Entertainment Earth: 
Amazing Spider-Man Marvel Legends action figures bring back generations of Spidey and his friends and foes in popular 6-inch scale. Each awesome figure includes terrific accessories and amazing detail, plus a build-a-figure piece! Ages 4 and up.
This Amazing Spider-Man Marvel Legends Figures Case contains 8 individually packaged action figures:
1x SPD 6 INCH INFINITE LEGENDS DAREDEVIL
1x SPD 6 INCH INFINITE LEG SCARLET SPIDER
1x SPD 6 INCH INFINITE LEGENDS ELEKTRA
2x SPD 6 INCH INFINITE LEGENDS DOC OCK
1x SPD 6 INCH INFINITE LEGENDS DAGGER
1x SPD 6 INCH INFINITE LEGENDS CLOAK
1x SPD 6 INCH INFINITE LEG HOUSE OF M SM