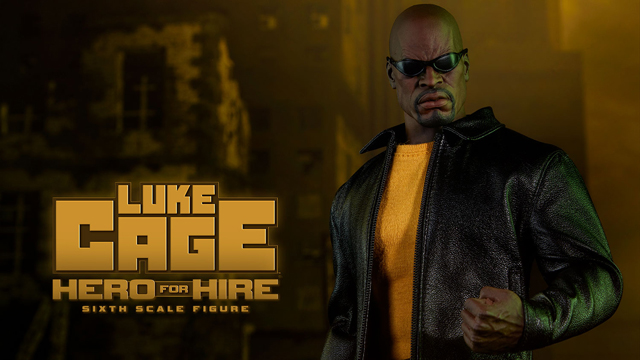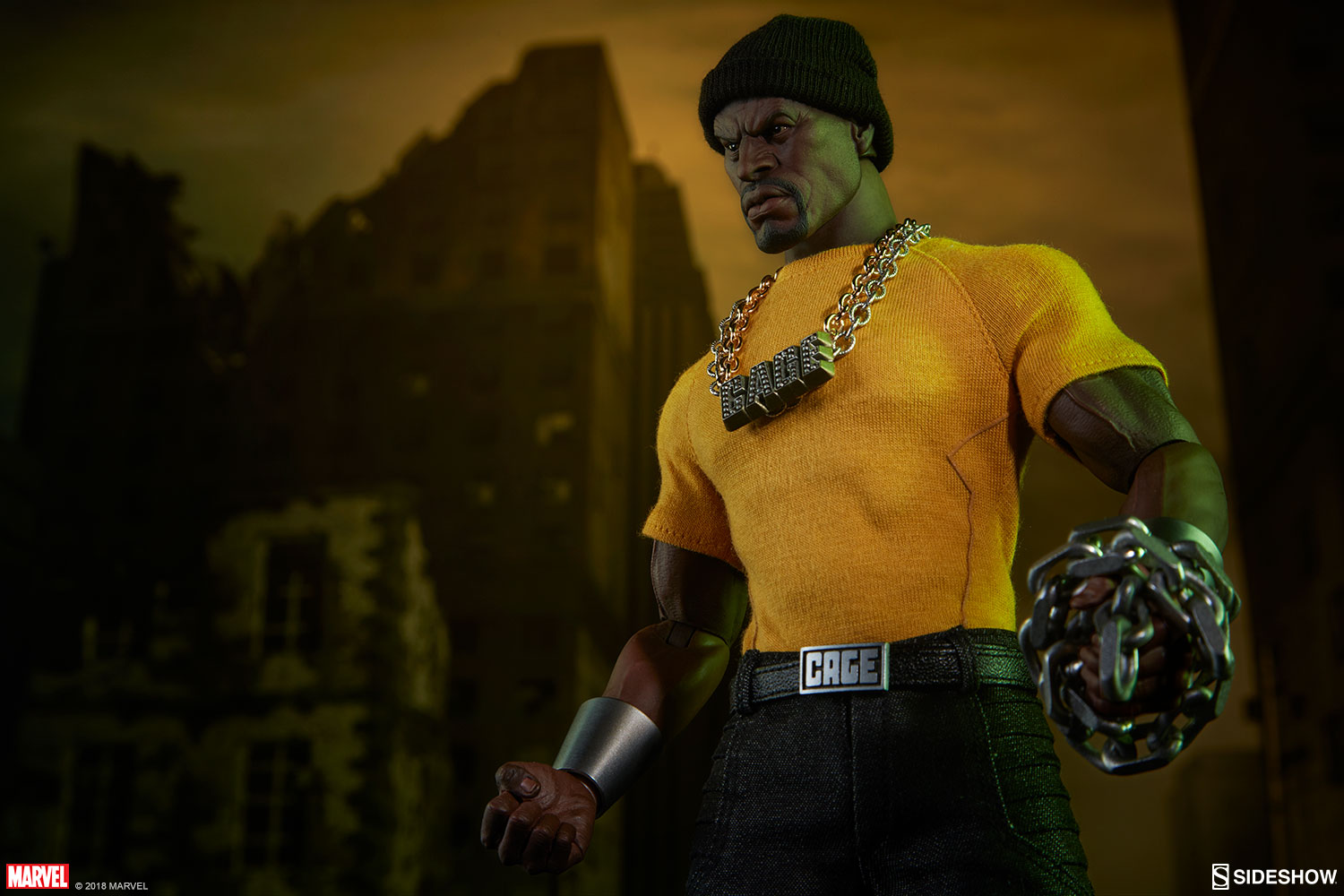 Luke Cage has become a much more high profile character of late thanks to his Netflix show. This Sideshow version of Luke Cage is based on his comic book origins. The figure is currently available for pre-order and will ship from Sideshow Collectibles in December 2018 – February 2019. Pictured here is the Sideshow Exclusive version that includes Knuckle Rings. Check out all of the product info plus images from Sideshow below.
From Sideshow: 
"I got skin like steel and muscles to match."
Sweet Christmas! Sideshow is proud to present the Luke Cage Sixth Scale Figure.
The Luke Cage Sixth Scale Figure captures the strength and swagger of Harlem's hero for hire, Power Man. Luke Cage has a stylized head sculpt inspired by his appearance in Marvel Comics, and a muscled body design that is articulated for attitude and action-packed poses.
The Luke Cage Sixth Scale Figure has a custom-tailored fabric costume with a variety of interchangeable accessories so you can style your favorite Luke Cage look. The figure comes dressed in a yellow t-shirt and black jeans with a leather-like belt and "CAGE" buckle, as well as a black fabric beanie and leather-like jacket.
The Luke Cage Sixth Scale Figure includes a pair of removable silver wristbands, a silver chain necklace, a gold "CAGE" name necklace, a pair of sunglasses, and a chain weapon accessory to give you multiple dynamic display options. This highly detailed figure features one pair of sculpted boots, and seven different hands including one pair of fists, one pair of gesture hands, one pair of grip hands, and an additional left grip hand.
The Exclusive edition of the Luke Cage Sixth Scale Figure includes an additional pair of left and right hands with "LUKE" and "CAGE" knuckle rings, perfect for putting the hurt on some criminals in your collection.
Looking to hire a hero? Add the Luke Cage Sixth Scale Figure to your Marvel collection today!
License

Marvel

Type

Sixth Scale Figure

Manufacturer

Sideshow Collectibles
Artists
Walter O'Neal (Design)

Chris Wooten (Sculpt)

Joe Menna (Sculpt)

Narae (Sculpt)

Wan Lee (Paint)

Namhoon Kim (Paint)

Mijin Namgung (Costume Fabrication)

The Sideshow Design and Development Team 
The Luke Cage Sixth Scale Figure specially features:
Stylized headsculpt of Luke Cage, inspired by Marvel Comics' Power Man

Nine (9) hands, including:
– One (1) pair of fists
– One (1) pair of gesture hands
– One (1) pair of grip hands
– One (1) left fist grip hand
– One (1) pair of fists with "Luke" "Cage" knuckle rings 
Costume:
One (1) yellow t-shirt

One (1) pair of black jeans

One (1) black leather-like jacket

One (1) black beanie

One (1) leather-like belt with "CAGE" belt buckle
Accessories:
One (1) silver chain necklace

One (1) gold "CAGE" name necklace

One (1) pair of removable silver wristbands

One (1) pair of sunglasses

One (1) chain weapon accessory

One (1) pair of black boots