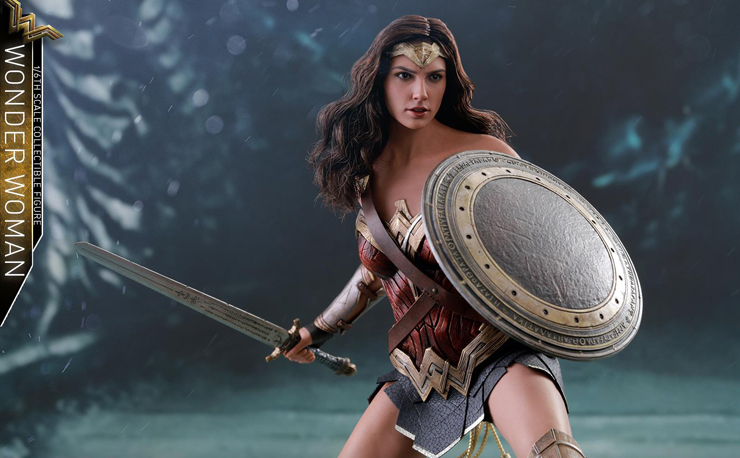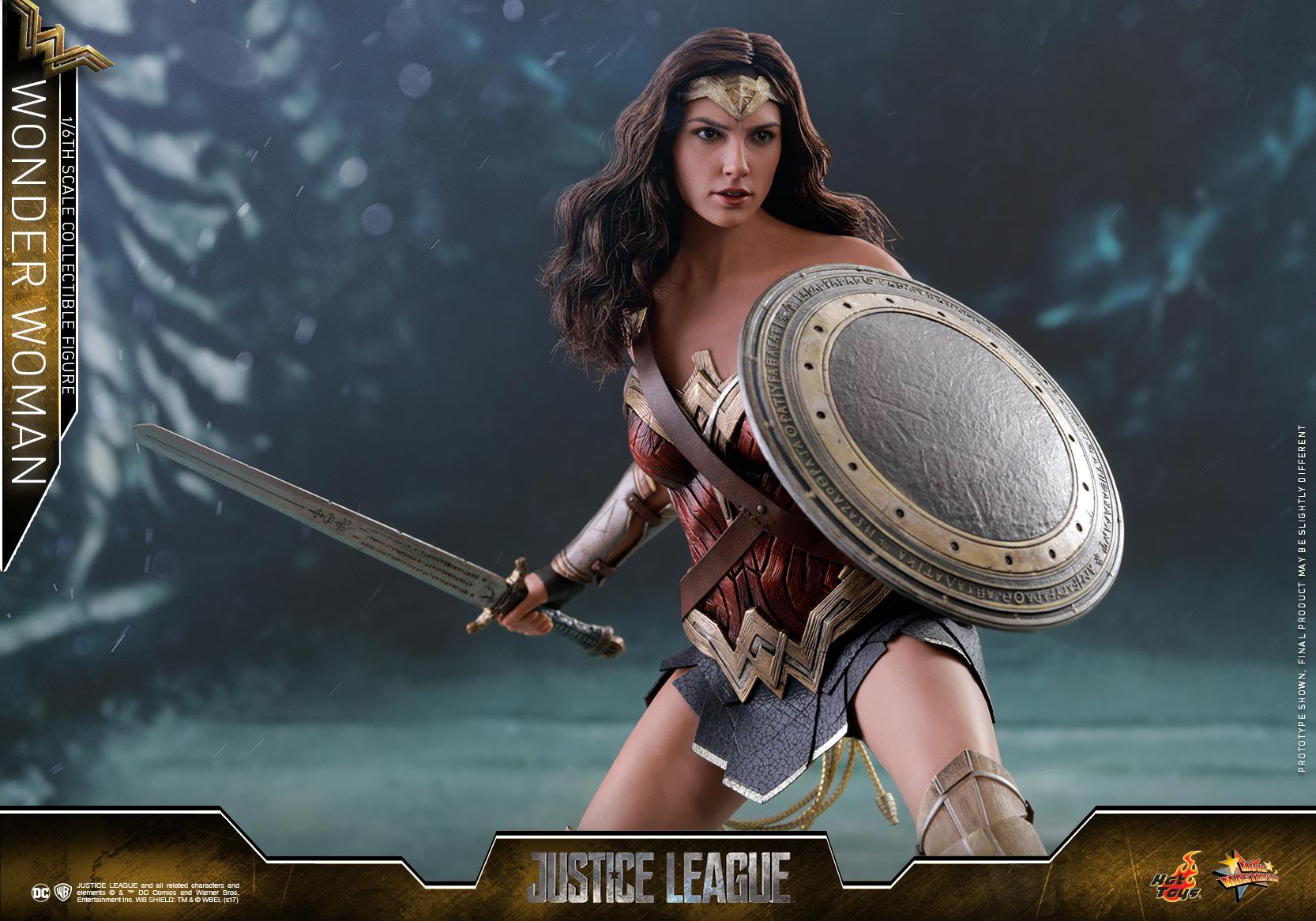 With the Justice League movie hitting theatres, Hot Toys has unveiled two versions of the Justice League Wonder Woman Sixth Scale Figure in Standard and Deluxe Editions which are both up for pre-order.
Doing Gal Gadot justice with an incredible sculpt that's as realistic as it gets, the Wonder Woman 1/6 scale figure joins fellow Hot Toys figures from the Justice League line-up including The Flash, Aquaman, and Tactical Suit Batman, with more figures likely surfacing soon. While both figures come equipped for battle with sword, shield and Lasso of Truth, the Deluxe Edition also features a few other accessories like a black colored hooded robe, dark brown colored leather-like cross-body belt, and an Amazonian Mother Box.
Expected to Oct 2018 – Dec 2018, you can pre-order both Standard and Deluxe Edition Justice League Wonder Woman Sixth Scale Figures by Hot Toys below.
Hot Toys Justice League Wonder Woman Sixth Scale Figures – BUY NOW
---
Justice League Wonder Woman Sixth Scale Figure (Standard Edition):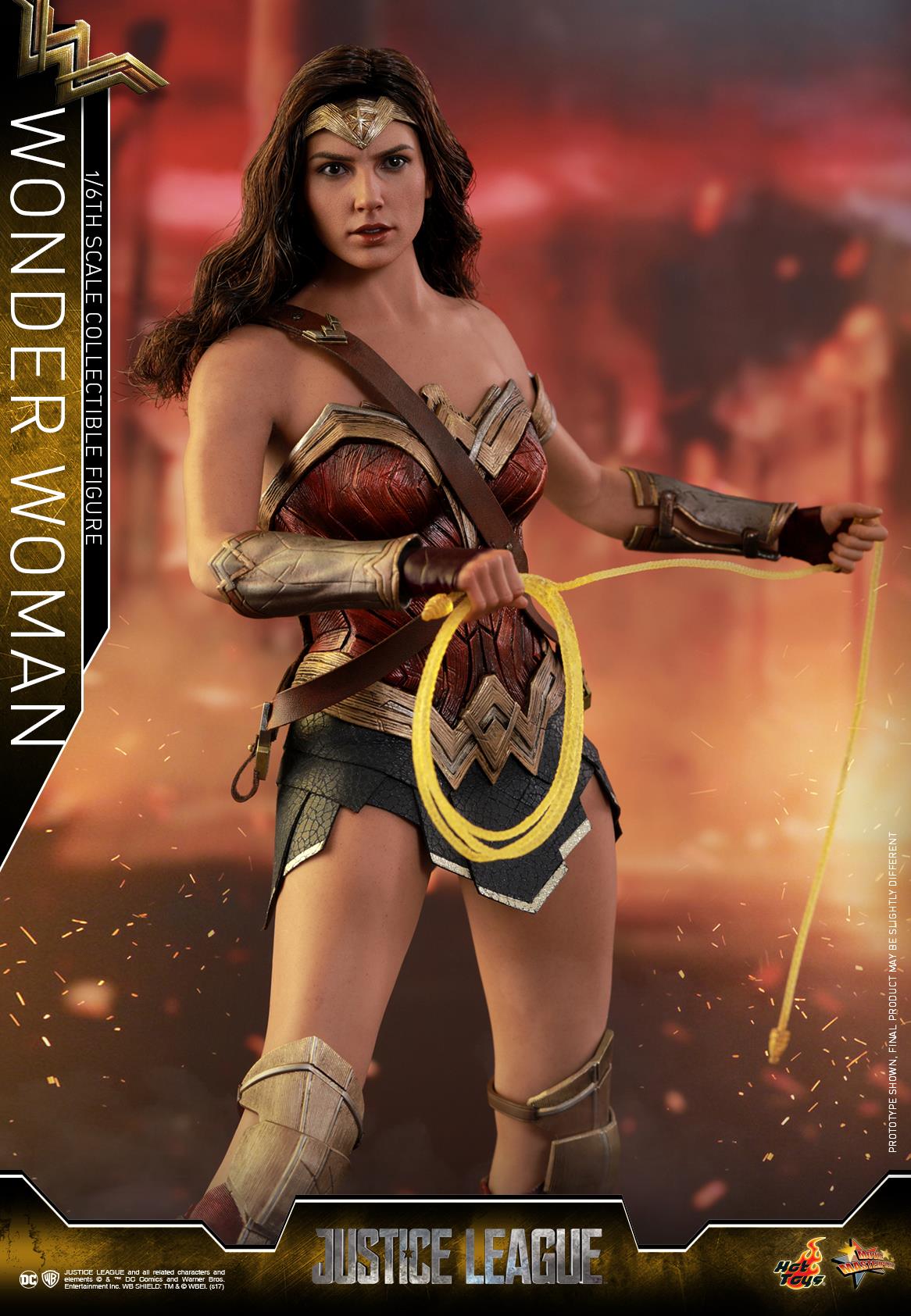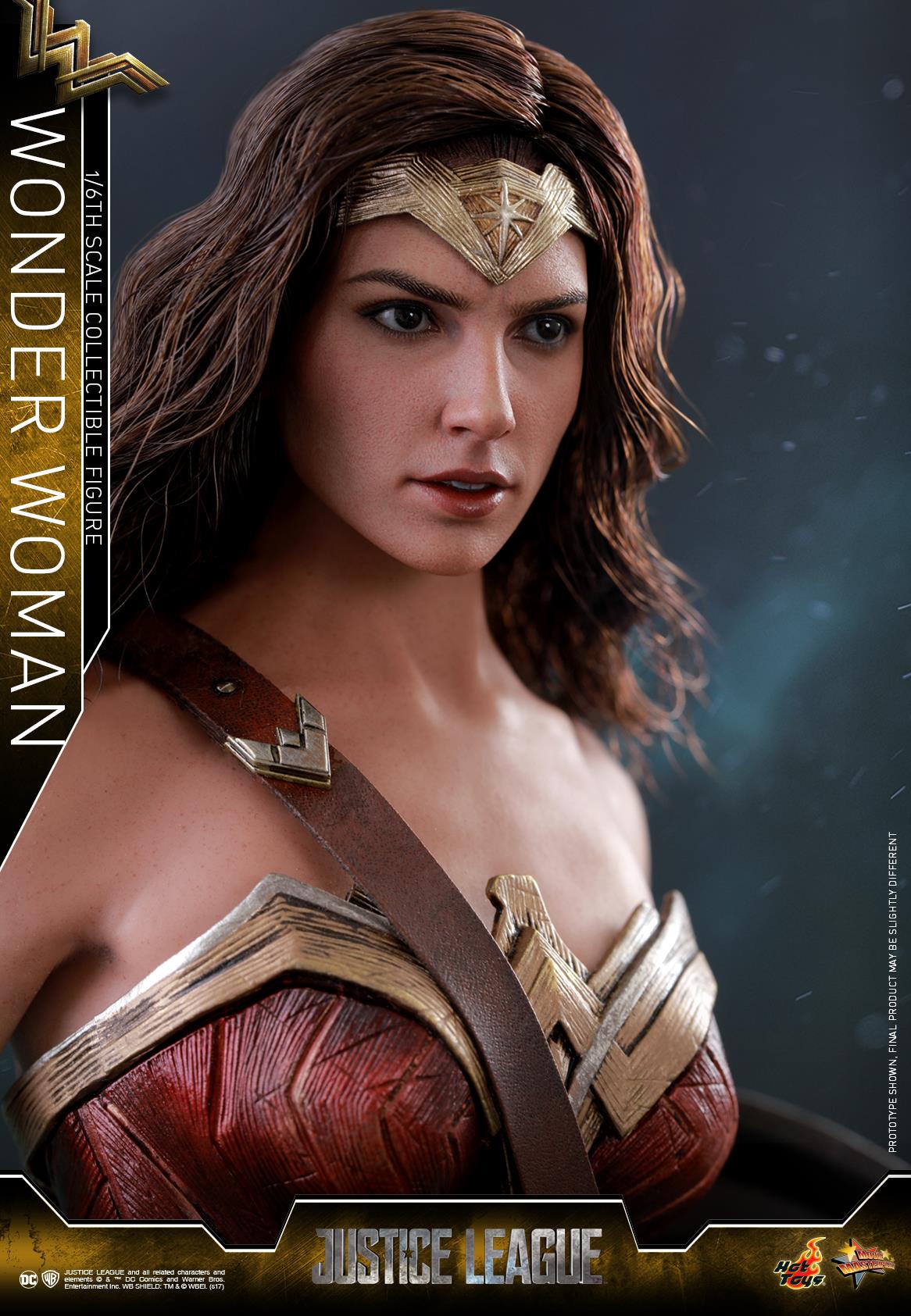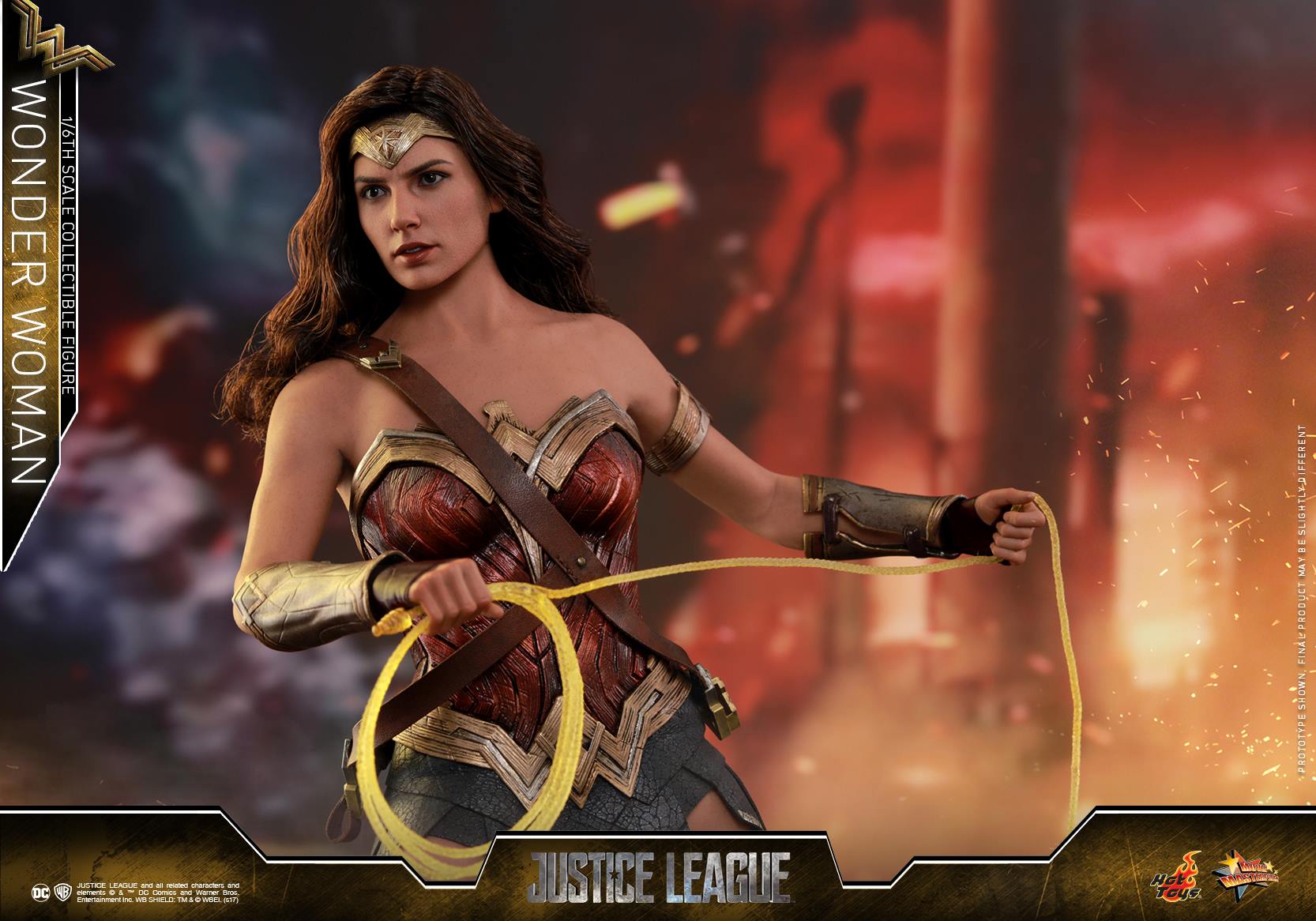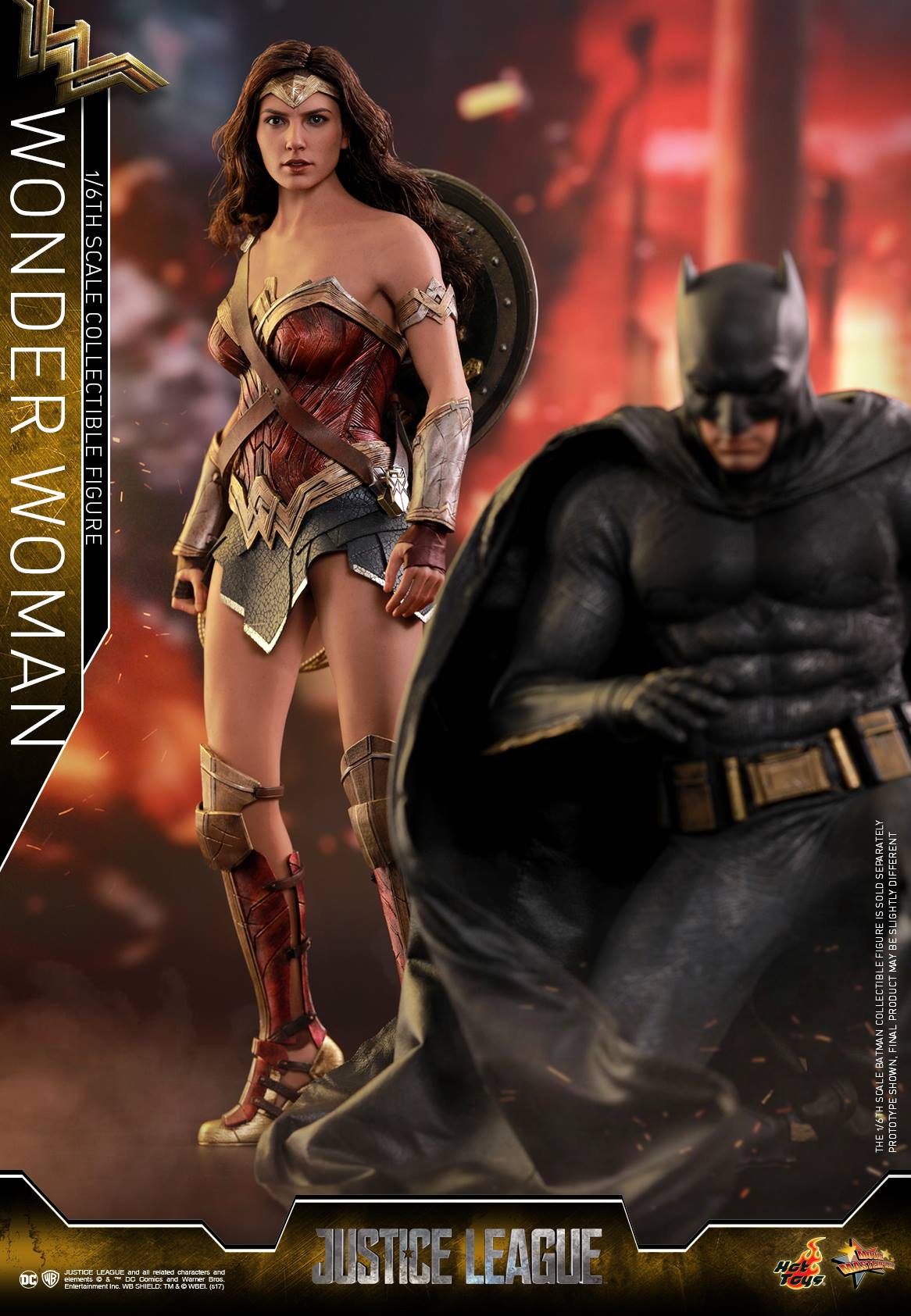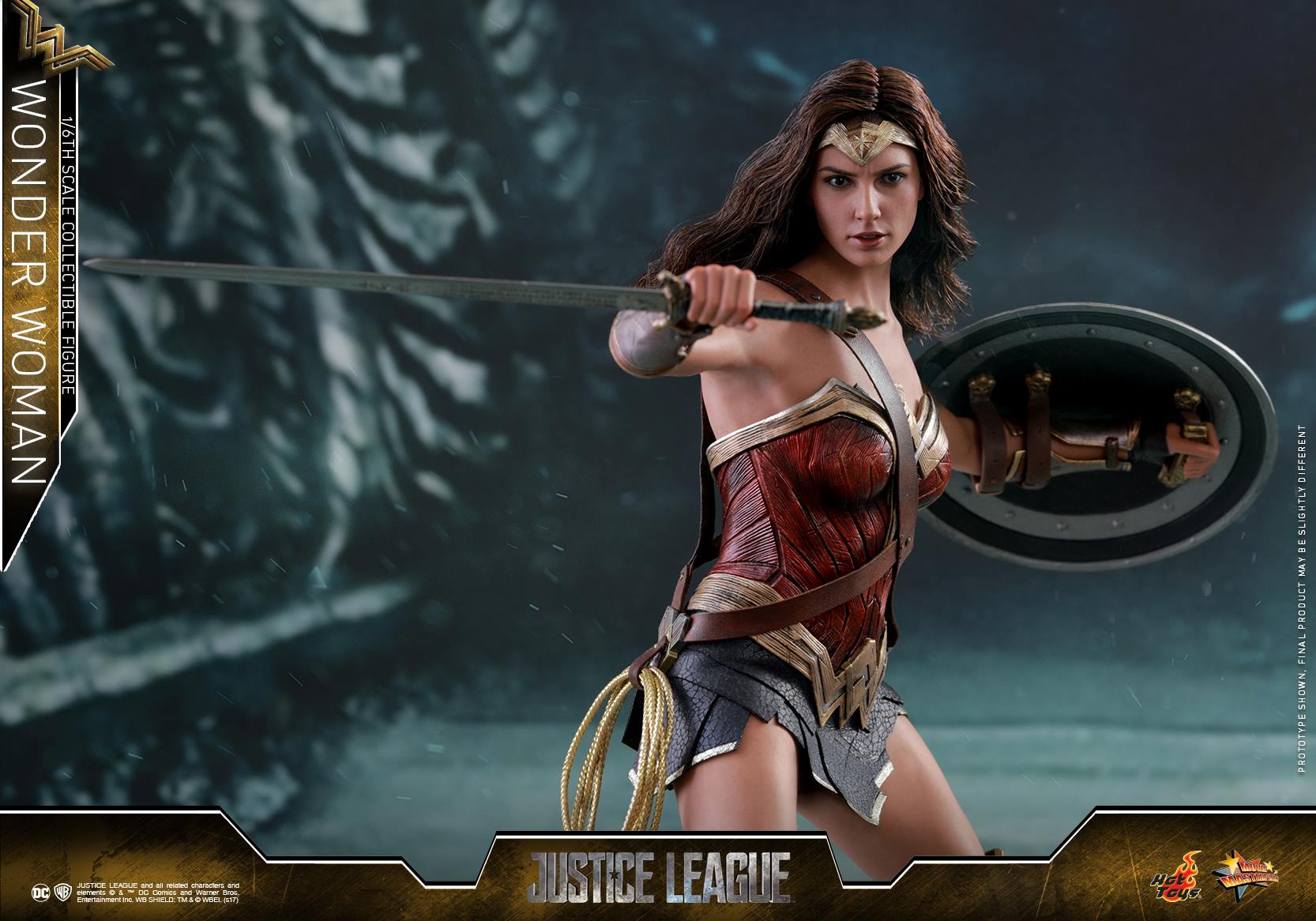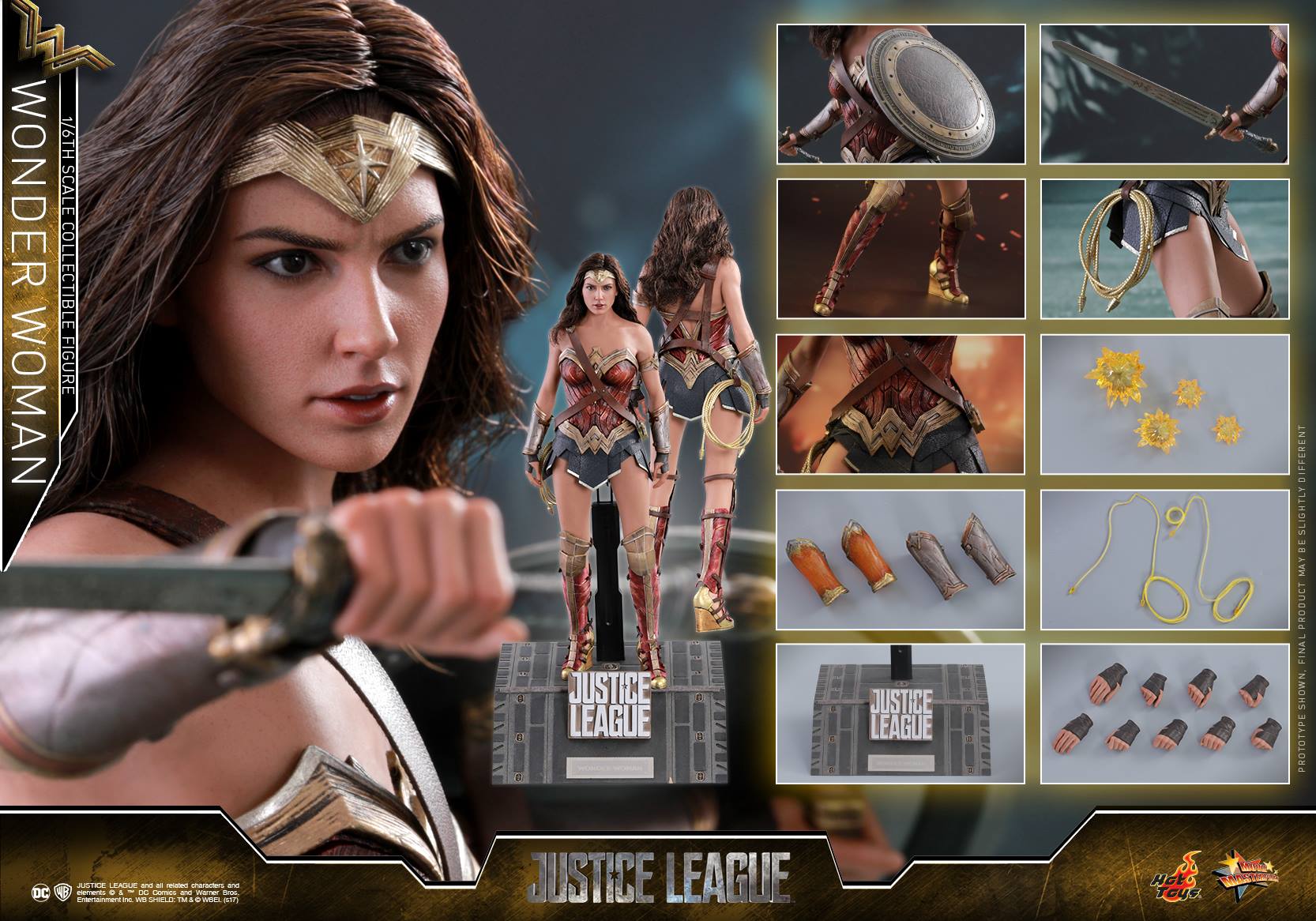 Specifications:
– Product Code: MMS450
– Product Name: Wonder Woman
– Height: Approximately 29 cm tall
– Points of Articulations17
– Special Features: Long curly dark brown real fabric hair implantation, specially tailored red, blue, and gold colored armor with weathering and battle damaged effect, 4 pieces magnetic bullet sparkling effects
– Artists: Head Sculpted by So Young, Lee
– Head Painted by JC. Hong & E-lee
– Head Art Directed by JC. Hong
The 1/6th scale Wonder Woman Collectible Figure specially features:
– Authentic and detailed likeness of Gal Gadot as Wonder Woman in Justice League
– Newly painted head sculpt with movie-accurate facial expression, make-up, and gold colored tiara
– Long curly dark brown real fabric hair implantation
– Body with over 17 points of articulations
– Approximately 29 cm tall
– Nine (9) pieces of interchangeable hands including:
– One (1) pair of relaxed hands
– One (1) pair of fists
– One (1) pair of hands for holding Lasso of Truth
– One (1) pair of hands for holding weapons
– One (1) left hand for holding sword
– Each piece of head sculpt is specially hand-painted
Costume:
– One (1) specially tailored red, blue, and gold colored Wonder Woman armor with weathering and battle damaged effect
– One (1) brown colored leather-like strap
– One (1) pair of gold and silver colored Bracelets of Submission
– One (1) pair of gold and orange colored Bracelets of Submission
– One (1) pair of red and gold colored boots with weathering and battle damaged effect
Weapons:
– One (1) engraved sword
– One (1) shield with weathering effect
– One (1) piece of gold colored rope (Lasso of Truth) (attachable to the strap)
– Two (2) pieces of yellow colored ropes (Lasso of Truth)
Accessories:
– Four (4) pieces of magnetic bullet sparkling effects in small, medium and large size (attachable to the gold and silver colored Bracelets of Submission)
– Specially designed Justice League elevating platform themed figure stand with Wonder Woman nameplate and the movie logo
Justice League Wonder Woman Sixth Scale Figure (Standard Edition) – BUY NOW
---
Justice League Wonder Woman Sixth Scale Figure (Deluxe Edition):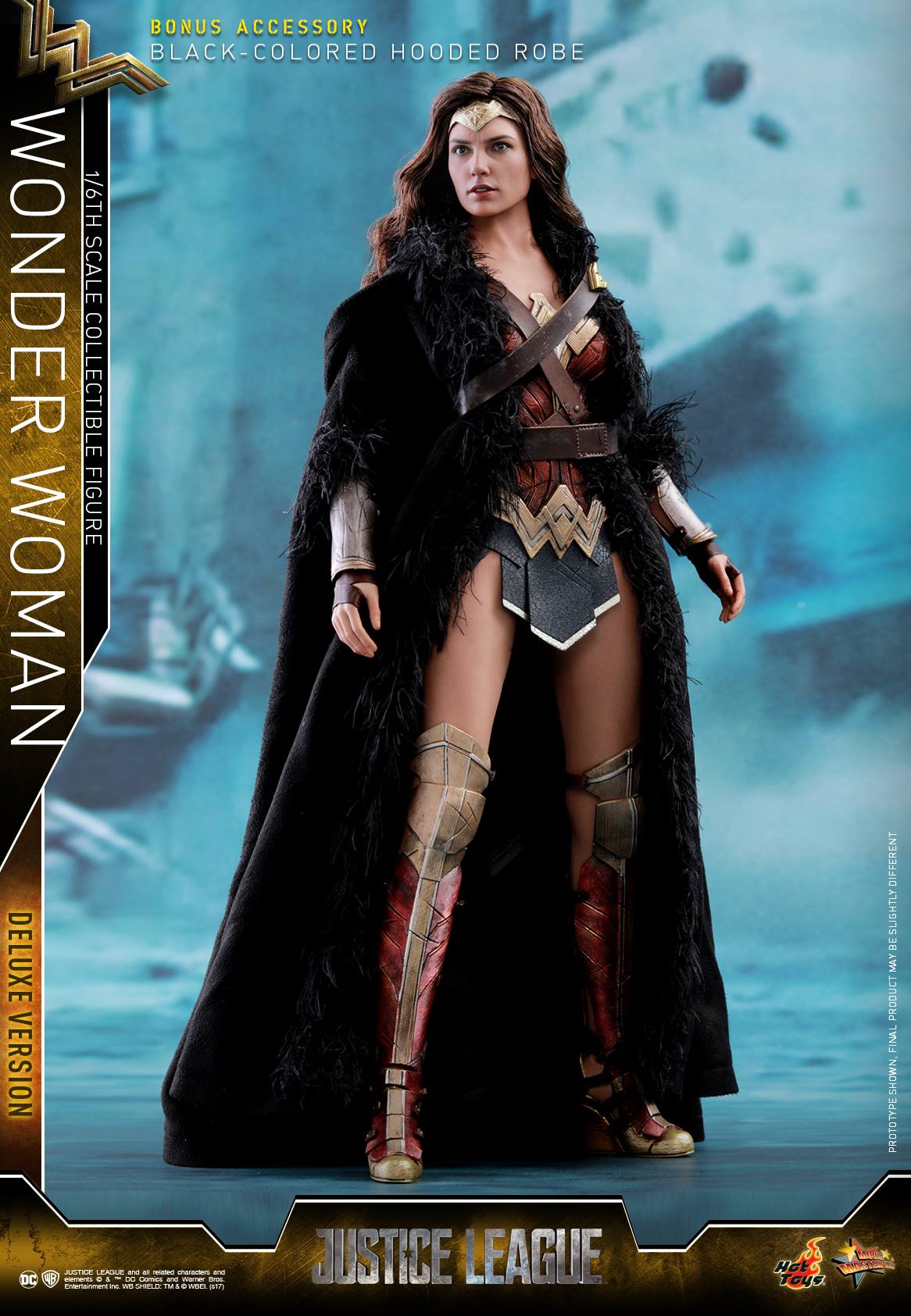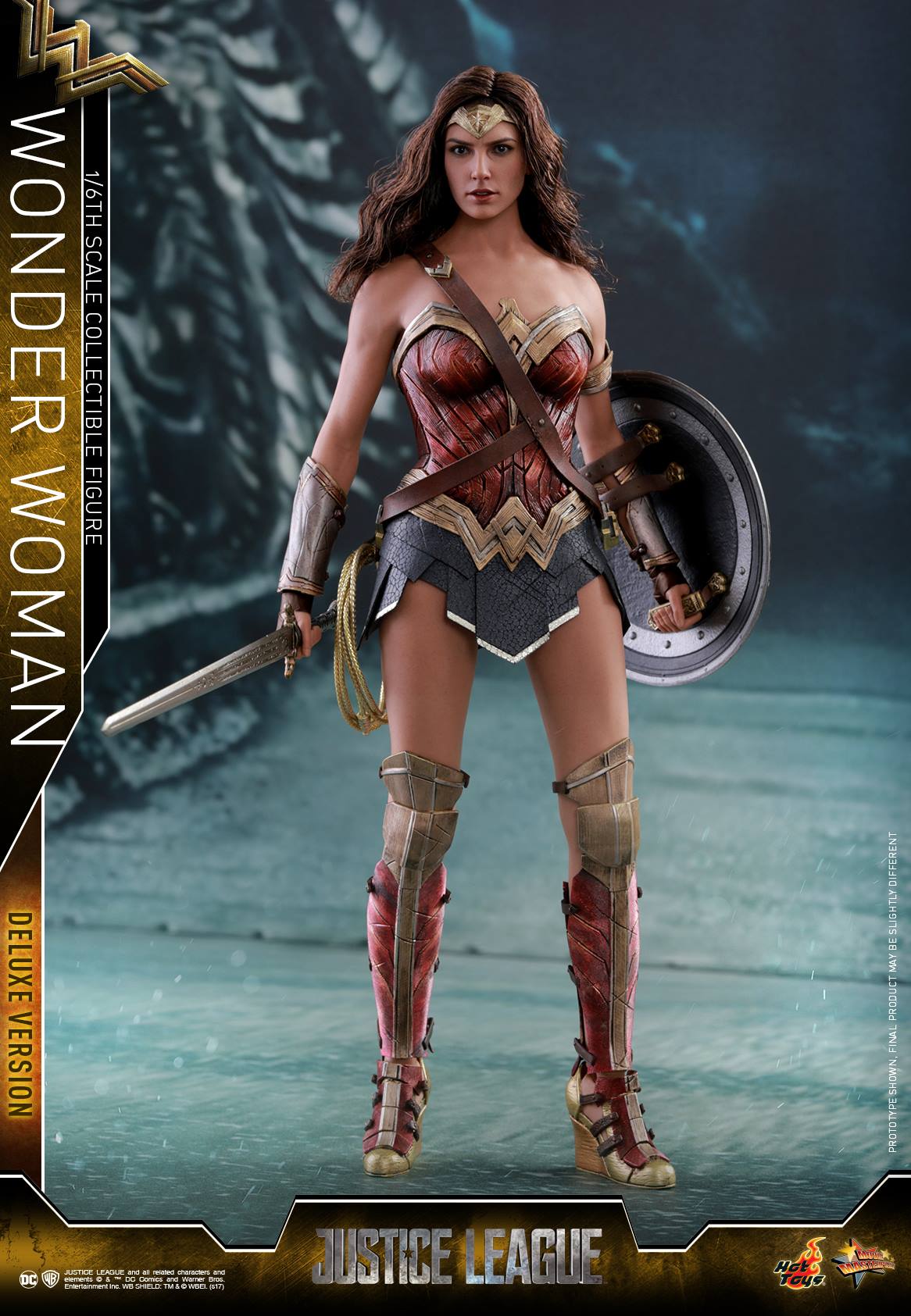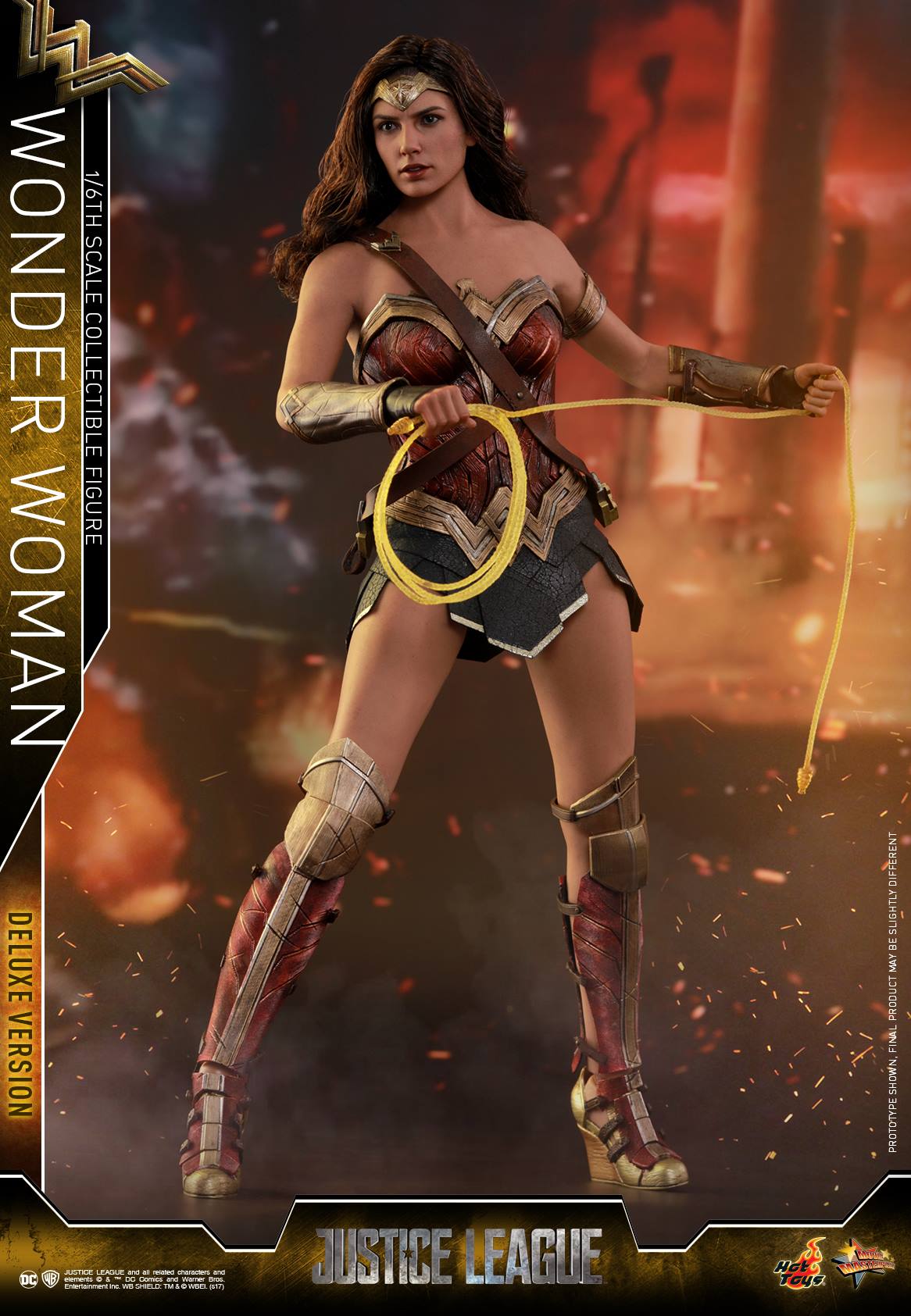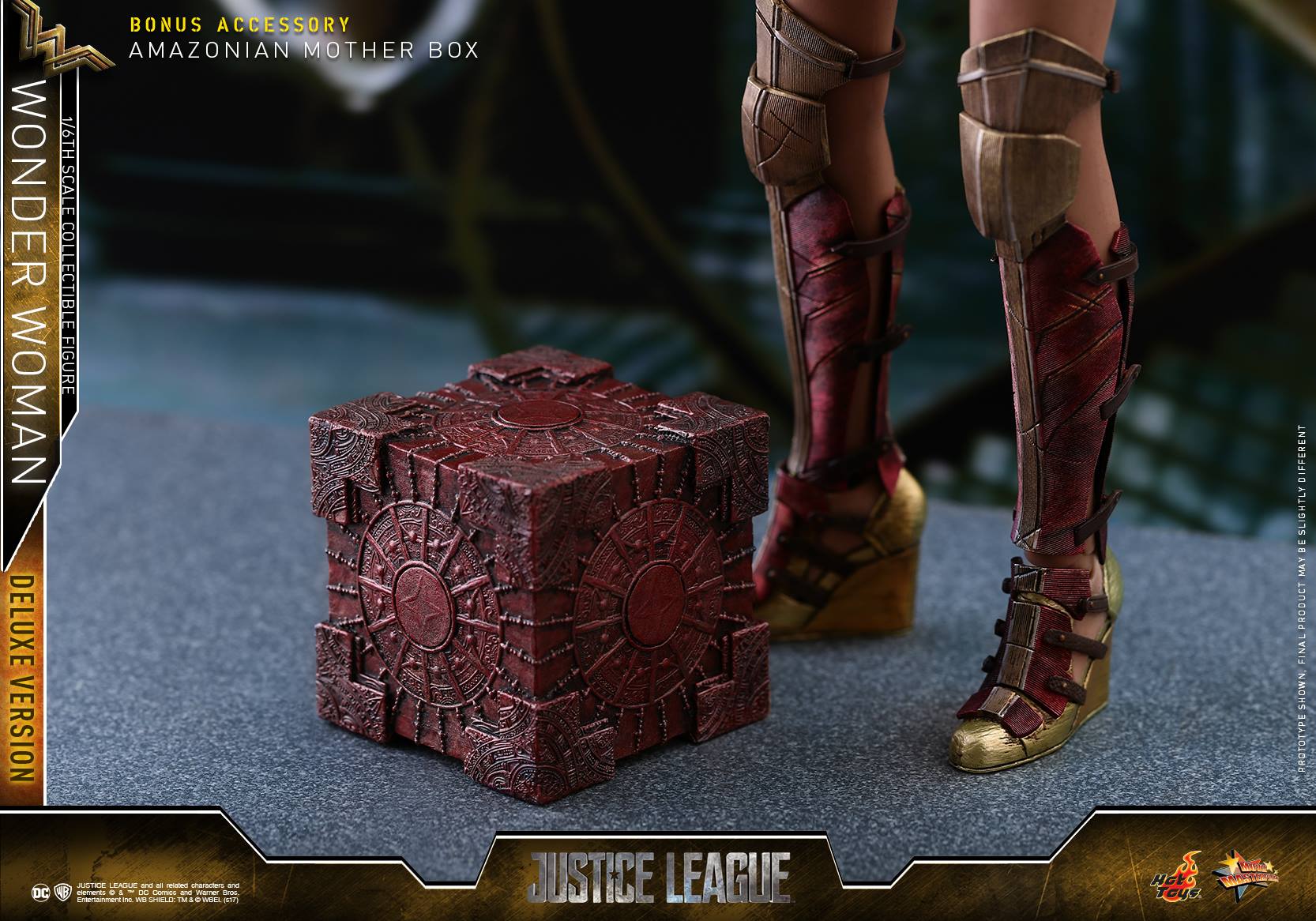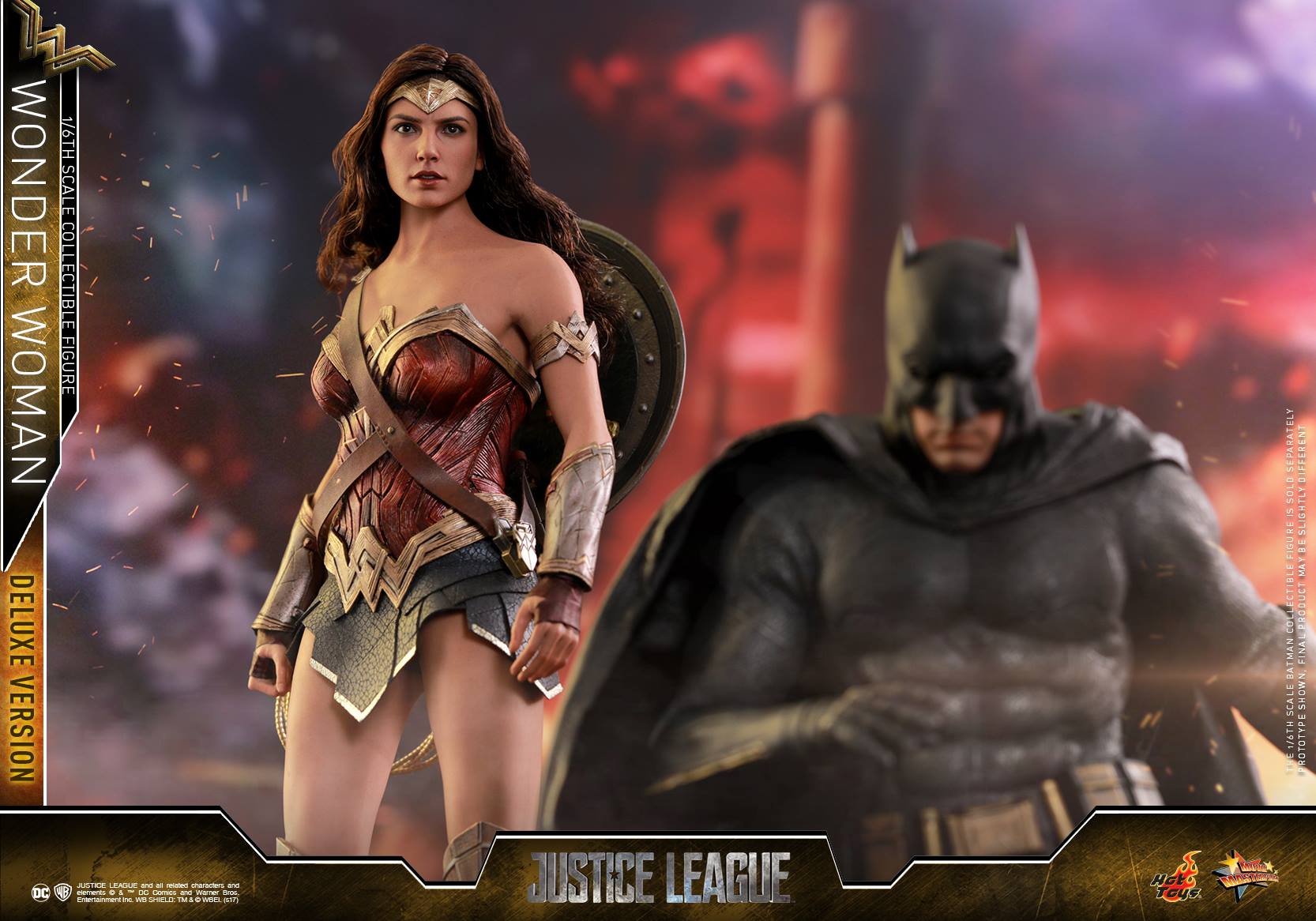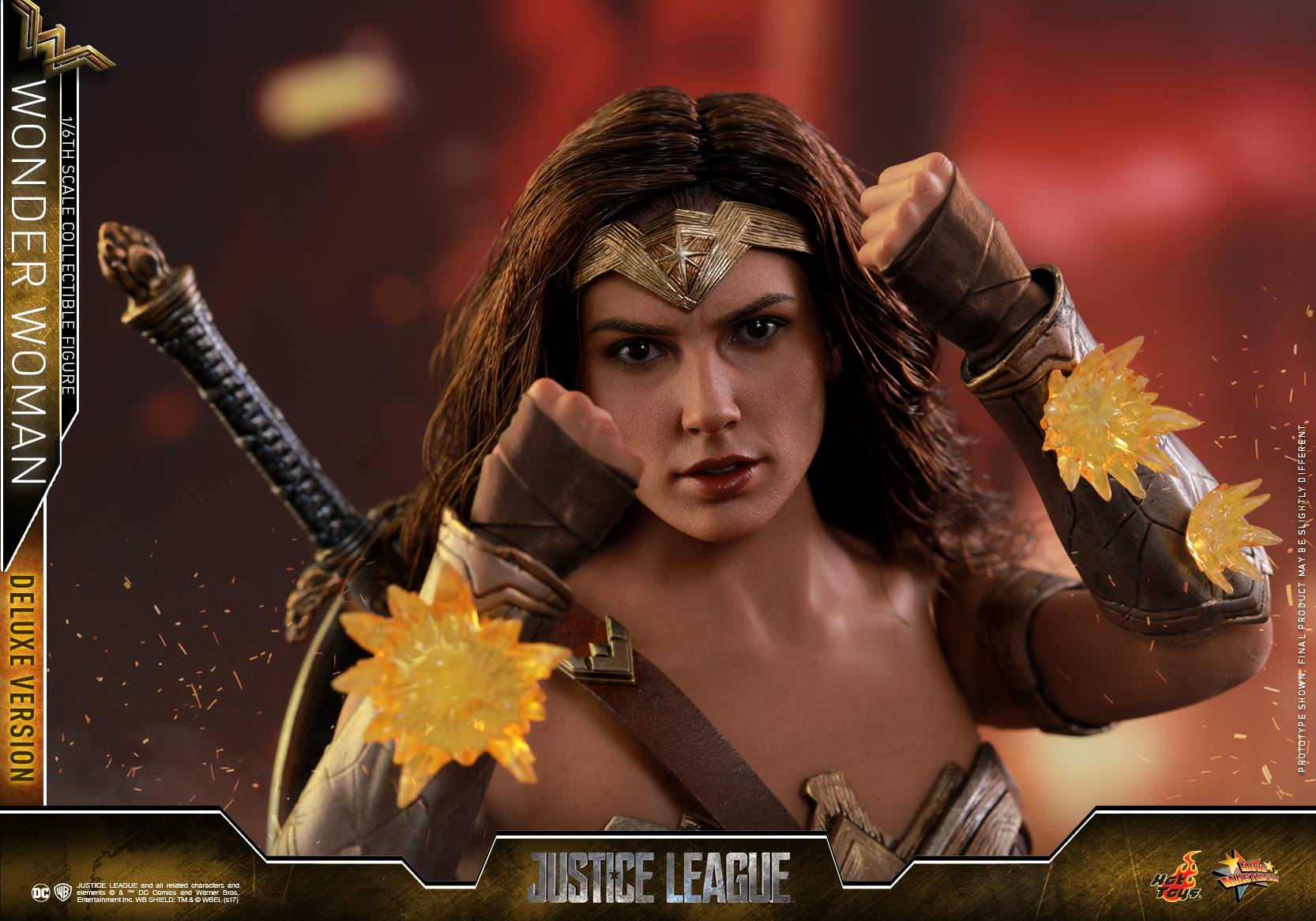 Specifications:
– Product Code: MMS451
– Product Name: Wonder Woman (Deluxe Version)
– Height: Approximately 29 cm tall
– Points of Articulations17
– Special Features: A red, blue, and gold colored Wonder Woman armor with weathering and battle damaged effect, A black-colored hooded robe, A dark brown colored leather-like cross-body belt, An Amazonian Mother Box
– Artists: Head Sculpted by So Young, Lee
– Head Painted by JC. Hong & E-lee
– Head Art Directed by JC. Hong
The 1/6th scale Wonder Woman (Deluxe Version) Collectible Figure specially features:
– Authentic and detailed likeness of Gal Gadot as Wonder Woman in Justice League
– Newly painted head sculpt with movie-accurate facial expression, make-up, and gold colored tiara
– Long curly dark brown real fabric hair implantation
– Body with over 17 points of articulations
– Approximately 29 cm tall
– Nine (9) pieces of interchangeable hands including:
– One (1) pair of relaxed hands
– One (1) pair of fists
– One (1) pair of hands for holding Lasso of Truth
– One (1) pair of hands for holding weapons
– One (1) left hand for holding sword
– Each piece of head sculpt is specially hand-painted
Costume:
– One (1) specially tailored red, blue, and gold colored Wonder Woman armor with weathering and battle damaged effect
– One (1) brown colored leather-like strap
– One (1) black-colored hooded robe***
– One (1) dark brown colored leather-like cross-body belt (equipped with Velcro tape)***
– One (1) pair of gold and silver colored Bracelets of Submission
– One (1) pair of gold and orange colored Bracelets of Submission
– One (1) pair of red and gold colored boots with weathering and battle damaged effect
Weapons:
– One (1) engraved sword
– One (1) shield with weathering effect
– One (1) piece of gold colored rope (Lasso of Truth) (attachable to the strap)
– Two (2) pieces of yellow colored ropes (Lasso of Truth)
Accessories:
– Four (4) pieces of magnetic bullet sparkling effects in small, medium and large size (attachable to the gold and silver colored Bracelets of Submission)
– One (1) Amazonian Mother Box***
– Specially designed Justice League elevating platform themed figure stand with Wonder Woman nameplate and the movie logo
*** Exclusive to Deluxe Version
Justice League Wonder Woman Sixth Scale Figure (Deluxe Edition) – BUY NOW