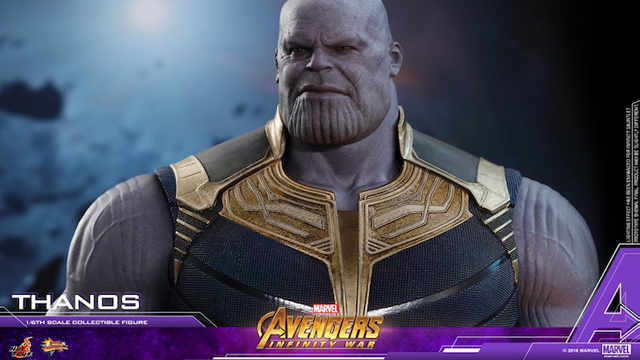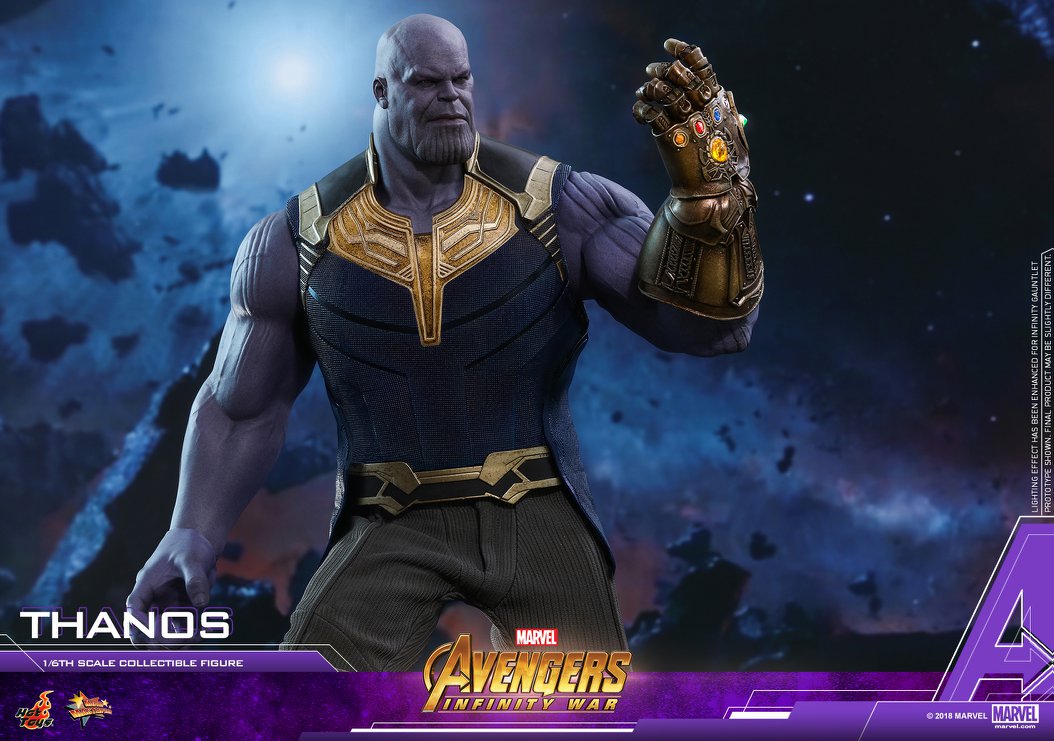 Avengers: Infinity War opens April 25th. The film will feature the most Marvel heroes ever on the big screen and all of them will be needed to take on the ultimate evil—Thanos. Hot Toys is releasing a 1/6th Scale Figure that captures Josh Brolin's character likeness in the upcoming third Avengers film. The Thanos figure is now up for pre-order at Sideshow.com, and you can definitely expect the kind of quality and detail Hot Toys is known for. Check out official product info and images from Hot Toys below.
From Hot Toys:
"Dread it. Run from it. Destiny still arrives." – Thanos
In less than a month, fans will witness the Avengers assemble again in Marvel Studios Avengers: Infinity War, who are brought face to face with the cunning, intelligent, and fierce warlord, Thanos, a ruthless cosmic threat consumed with saving the universe from itself. To stop him, the Avengers must join forces to bring down this villain who will stop at nothing to collect the six Infinity Stones.
Hot Toys has dedicated its great effort to create the latest Avengers: Infinity War collectibles based on the most up-to-date details, and today Hot Toys is ecstatic to officially introduce the highly movie accurate 1/6th scale Thanos collectible figure that Marvels fans eagerly sought after!
The spectacular 1/6th scale Thanos collectible figure is meticulously crafted with impressive likeness based on the main appearance of Thanos in Avengers: Infinity War. The collectible figure features two newly developed and sophisticatedly crafted interchangeable head sculpts inspired by Thano's serious and angry expressions respectively. It also comes with two styles of LED light up metallic gold-colored Infinity Gauntlets with all six Infinity Stones and weathering effect, an additional interchangeable non-articulated left arm with great muscle details for Thanos' iconic and intimidating clenched fist pose, a newly sculpted and tailored armored costume with intricate details, and a specially designed figure base and backdrop.
This astonishingly detailed collectible figure of the mighty Marvel Cinematic Universe super villain will surely put a smile on your face when you add him to your incredible Marvel collection!
Specifications:
– Product Code: MMS479
– Product Name: Thanos
– Height: Approximately 41.5 cm tall
– Points of Articulations: 20
– Special Features: A newly developed interchangeable head sculpt capturing Thano's angry expression, Two styles of LED light up Infinity Gauntlets with all six Infinity Stones and weathering effect
– Artists: Head Sculpted by Yong Kyum Kim. Angry Head Sculpted by Kojun.
– Head Painted by JC. Hong. Armor Painted by Lok Ho.
– Head Art Directed by JC. Hong
The 1/6th scale Thanos Collectible Figure specially features:
– One (1) newly developed head sculpt with authentic and detailed likeness of Thanos in Avengers: Infinity War
– One (1) newly developed interchangeable head sculpt capturing Thano's angry expression
– Movie-accurate facial expression with detailed wrinkles and skin texture
– Approximately 41.5 cm tall
– Newly sculpted purple-skinned muscular body featuring detailed skin texture with over 20 points of articulations, built-in joints in neck and arms with seamless elbow joints
– One (1) additional interchangeable non-articulated power pose left arm with muscle details
– Three (3) pieces of interchangeable hands including:
– One (1) right fist
– One (1) relaxed right hand
– One (1) gesturing right hand
– Each piece of head sculpt is specially hand-painted
Costume :
– One (1) blue-colored armor vest with metallic gold-colored trims and details
– One (1) dark grey-colored pants with texture
– One (1) pair of brown and blue-colored boots with weathering effects and gold-colored trims
Accessories:
– One (1) interchangeable LED-lighted metallic gold-colored Infinity Gauntlet with individually articulated fingers, weathering effect, and mounted with six Infinity Stones (6 LED lights, battery operated)
– One (1) interchangeable LED-lighted non-articulated metallic gold-colored Infinity Gauntlet with clenched fist, weathering effect. and mounted with six Infinity Stones (6 LED lights, battery operated)
– A specially designed movie-themed figure base with movie logo and backdrop